Why You Should Upgrade Your Plumbing Before The New Year
Posted in General Plumbing Services, on December 06, 2022
---
Homeowners should monitor their plumbing system and watch out for warning signs of potential plumbing problems. Most of us wait until there is a sudden flooding, blocked pipe, or sewage backup before calling a plumber in Fort Lauderdale. Unfortunately, a reactionary response is usually expensive and damaging. Upgrading your plumbing as a precautionary measure is more sensible than searching for plumbers near Fort Lauderdale during a plumbing emergency. Here's why you should start the new year on the right note with high-quality plumbing repairs and upgrades in Broward County.
1. Save Money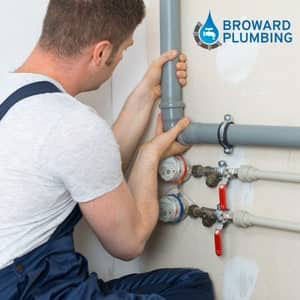 Upgrading your plumbing and carrying out necessary repairs now can help save you money. While you may be paying in the short term, you'll actually save money by avoiding future costs on maintenance and potential water damage. The older your plumbing, the greater the possibility of pipe leaks, breaks, and back-ups. Remember that even a minor leak can snowball into significant flooding and damage. A running toilet can waste around 6000 gallons of water every month and cost you up to $1000 in water bills. So calling reliable plumbers in Fort Lauderdale for repair and upgrade options is a good idea!
2 Improve Functionality
Plumbing fixtures like water heaters, washing machines, and dishwashers use significant energy. Older appliances also don't work as efficiently as they should, leading to hefty utility bills. Replacing them with new, energy-efficient models can improve functioning and save energy, water, and money. It also means lesser plumbing repairs and desperate emergency searches for a plumber near Fort Lauderdale.
3. Prevent Sewage Backups and Other Plumbing Emergencies
An outdated plumbing system is not only inefficient, but it is also a plumbing disaster waiting. If you have old pipes and fixtures, you're probably sitting on a potential clog or a flooded toilet. Call a trusted plumber in Fort Lauderdale whenever you spot warning signs like low or high water pressure, strange noises, or unexpected moisture. They can quickly diagnose and repair the issue or suggest repiping or other plumbing upgrades.
4. Winterize Your Home
When temperatures reach the minus domain, you need to winterize your plumbing system. This means preparing your pipes for below-freezing temperatures with insulation and covering exposed hose bibbs and lines.
5. Boost Property Value
While many of us think that increasing the value of our property requires considerable renovation, that is only sometimes true. Getting a professional plumber in Fort Lauderdale to upgrade your plumbing fixtures is an easy yet inexpensive solution to increase your home value. Also, consider a plumbing upgrade if you're planning on selling your property. Outdated plumbing can be a deal breaker or lower the value of your home. December is the ideal time to change things before the new year, and a plumbing upgrade is a perfect way to add value and pizzazz to your home.
Trust Broward Plumbing for Emrgency Plumbing Upgrades & Repairs
Before you scour the net for plumbers near me, call the pros at Broward Plumbing! Upgrading your plumbing before the new year can make your home feel more opulent and welcoming. Save money & energy, and add value with nifty plumbing upgrades from the experts at Broward. From emergency plumbing to water leak detection and complete repiping, our certified plumbers in Fort Lauderdale will fix all your plumbing issues.
Connect with us to discover our full range of plumbing upgrades and services today!