Your Checklist To Avoid Plumbing Problems During the Holidays
Posted in Emergency Plumbing Services, on December 01, 2021
---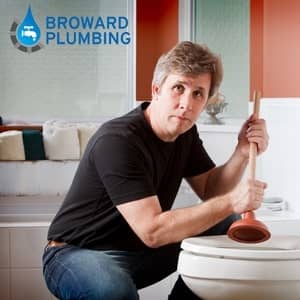 The holidays are here! This means vacations, celebrations with family and friends, delicious food...and plumbing problems for many of us! Guests and holiday dinners can strain your plumbing system, and you don't want to add to the holiday stress with a plumbing catastrophe. While the pros at Broward Plumbing are equipped to handle all your 24-hour emergency plumbing needs, preventive measures to avoid a plumbing disaster can definitely help. Cover all plumbing necessities and avoid messy plumbing situations with this ultimate checklist our plumbers in Fort Lauderdale have put together for you!
Emergency Plumbing Services in Fort Lauderdale
Shut Off The Water Valve When Away: Whether you're planning a vacation on a sunny beach or going for that coveted family get-together, make sure to turn off the main water valve. This way, you'll be protected against unexpected flooding and nasty accidents while you're away.
Ask Guests To Not Put Inappropriate Items Down Your Sink or Toilet: This includes bones, fats, grease, oils, fruit/vegetable cores, and rinds. And flush no items other than toilet paper down the toilet. Keep a wastebasket in the bathrooms for trashing non-flushable products like wipes, cotton balls, diapers, etc.
Check Your Appliances: Before the guests come over, double-check most used appliances like the water heater, garbage disposal, washing machine, and dishwasher to ensure they are working correctly. If you notice any signs of trouble, get in touch with an expert plumber to tackle it right away.
Prepare For Clogs: Nobody wants to think about clogged toilets, but it's a common plumbing problem when you are entertaining at home. Be prepared for clogs in advance, or you'll be frantically calling a 24-hour emergency plumbing service. Flush the toilets to ensure that they're in good working order. Check for loose flush chains or leaking flappers and inspect the water levels and toilet bowl beforehand. Keep a plunger handy in each bathroom to tackle unfortunate clogs and embarrassing moments.
Avoid Chemicals: Avoid using harmful chemical drain cleaners if you have a clogged sink or slow drain. Use a natural solution of vinegar and baking soda or a plunger. If nothing works, just contact the experts at Broward plumbing.
Don't Overload The Garbage Disposal: Try not to test the limits of your garbage disposal! Cooking up holiday feasts can produce lots of grease and fats; dispose of them properly. Only put soft foods that can be easily broken down by your disposal unit and dispose of leftovers in the trash to avoid calling a plumber in Fort Lauderdale.
Use Drain Strainers: It's a good idea to place drain strainers in the kitchen sink, showers, and bathtubs. These strainers catch hair and food debris and prevent them from going down your drain and clogging them.
Get Holiday-Ready with Emergency Plumbers Near Fort Lauderdale!
We hope our checklist will keep plumbing problems at bay this holiday season. Broward Plumbing is committed to keeping the season enjoyable and stress-free for you. Prevent messy plumbing mishaps by scheduling a preventive plumbing inspection before the celebrations begin. A Broward technician can check your plumbing system for potential problems and find solutions before the holiday rush. Plumbing inspections are a cost-effective and ideal way to avoid plumbing hassles during the festivities. Don't wait; Contact team Broward for the best plumbers in Fort Lauderdale!