The Best Hot Water Heater Repair Services in Fort Lauderdale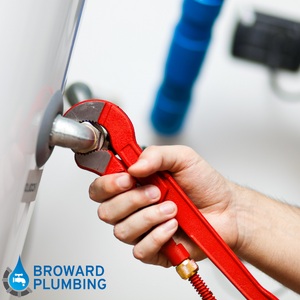 Is your hot water heater not working like it used to?
At Broward Plumbing, we know that when your water heater tank isn't working correctly, it can cause all sorts of hassles. That's why our team of experienced plumbers in Fort Lauderdale are here to help with any and all hot water heater tank repair needs in the Broward County area. We have over a decade of experience finding fast and effective solutions to any tank or tankless water heater problem, so you can rest assured that we'll be able to get your home back up and running in no time.
No matter what brand or model of water heater you have, we have the expertise to get the job done quickly and affordably. We also offer a wide range of service plans to choose from, so you can be sure your water heater is always in good working order.
If you're experiencing plumbing problems with your water heater, don't hesitate to call Broward Plumbing.
Signs You Need A Water Heater Repair
If you are having any of the following problems with your water heater, it may be time to contact Broward Plumbing for water heater repair in Fort Lauderdale:
Your water takes a long time to get hot
Only a small amount of hot water comes out when you turn on the faucet
Your water is discolored or has a bad odor
You hear knocking or banging noises coming from the heater
Your water is not getting hot enough
Leaks are coming from the heater or its piping
Why Water Heaters Break Down
There are a variety of reasons why a water heater can break down, both preventable and unpreventable. Some of the most common causes of water heater failure include:
Corrosion - A water heater's metal components will eventually corrode over time, which can cause leaks and damage the tank.
Sediment Buildup - The minerals and impurities in the water can gradually accumulate in the bottom of the tank, leading to rust and damage.
Poor Installation - If a water heater is not installed properly, it can cause undue stress on the system and eventually lead to failure.
Malfunctioning Thermostat - If the thermostat is not working properly, it can cause the water heater to overheat or underheat, leading to damage.
Excessive Use - If a water heater is used too heavily, it can wear down the components and cause them to break down.
Natural Disasters - Flooding, hurricanes, and earthquakes can all cause serious damage to water heaters, leading to their breakdown.
Age - All water heaters eventually reach the end of their lifespan and need to be replaced.
Neglect - If you don't properly maintain your water heater, it will eventually break down. This includes flushing the tank regularly, checking the pressure valve, and draining the tank every 6 months.
If your water heater breaks down frequently or you're unsure of the cause, it's best to call a professional plumber in Fort Lauderdale for 24-Hour emergency plumbing services. The plumbers at Broward Plumbing can diagnose the problem and recommend the best course of action for repairing or replacing your water heater.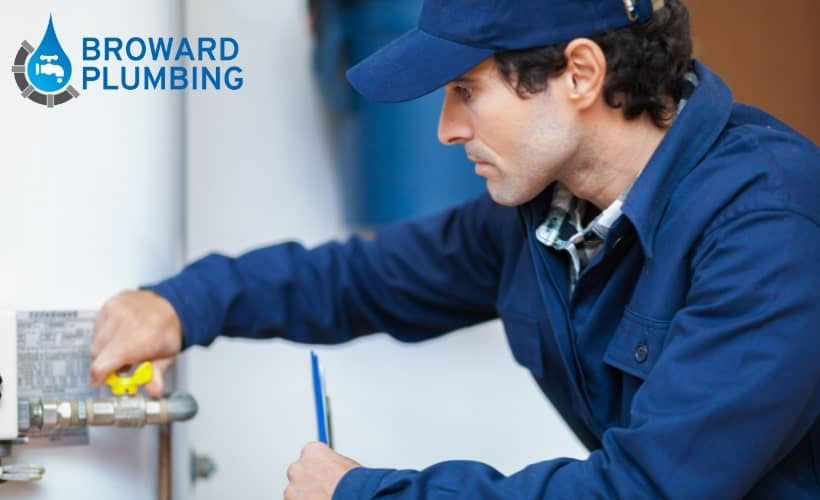 Why Choose Broward Plumbing
When you need a plumber in Broward County you can trust, Broward Plumbing is here for you. We're a professional plumbing company in Fort Lauderdale that takes pride in our work.
Years experience of providing plumbing services in Fort Lauderdale
Team of certified plumbers in Fort Lauderdale
Quick response times
Use the latest technology and advanced equipment
Offer flexible service options
Affordable plumbing repair prices
Plumbers Near Fort Lauderdale You Can Trust
If you notice issues with your water heater, there is no need to worry. Our team of professional plumbers in Fort Lauderdale at Broward Plumbing can help. We have over a decade of experience repairing and installing all types of water heaters, from tankless models to traditional tank-style systems. We understand that a broken water heater can be a major inconvenience, which is why we offer quick response times and flexible service options to fit your schedule.