Sewage Backup and Repair Services in Fort Lauderdale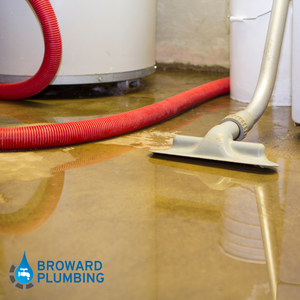 Untreated backed-up sewage can be a huge problem for any residential or commercial property. It can be especially unpleasant if it starts leaking into the living space. Sewage, which is filled with things best left unmentioned stinks, is a biohazard risk and can cause significantly more contamination than regular water when flooded.
If you are experiencing a sewer backup in Broward County or the nearby areas, the situation is urgent. Contact the 24-Hour emergency plumbers in Fort Lauderdale for quick and effective response.
At Broward Plumbing, we understand the damage backed-up sewage might cause to your home or business and will help you clean up and avoid it altogether. Looking for plumbers near Fort Lauderdale, schedule an appointment online or call us at 954-516-7777.
Signs of Sewage Backup
Flooding of sewage water should always be avoided as it can not only cause serious damage to your property but can also be extremely risky for your health. Look out for slow draining drains or percolating toilets, as they are the very first signs of obstruction in sewage lines. These backups occur on main sewer lines when a common pipe is clogged.
Common Causes of Sewer Backup
Clogs caused by waste disposal, stones, dirt, or mud in drains can cause sewage to back up. Tree roots can sometimes enter sewage lines in search of moisture and end up blocking them. Pipes can break due to the pressure of the soil around them and end up causing sewer backup issues. This is especially the case with older homes, as they have pipes made of clay that are prone to breakages.
Sewage Backup Cleanup
We highly recommend hiring a professional, licensed, and certified plumber in Fort Lauderdale to fix your sewage backup problem. If the issue remains unresolved, there is a chance that it may lead to serious health issues including various illnesses, Tetanus and Hepatitis A. A professional plumber will help properly sanitize and disinfect the affected areas. Call a plumber experienced in trenchless sewer repair for the best and long-lasting results.
Trenchless Sewer Repair
With the use of video cameras, professional plumbers can locate the exact cause of the problem in the sewer lines without digging everything up. Once the issue is located, we can recommend efficient solutions that do not involve digging around the house. All it takes is two entry holes for the new pipe liner to get the job done. This allows for highly professional repair solutions without the intrusiveness of traditional services.
Benefits of Trenchless Sewer Repairs
Since there is no need to dig up the whole yard to pinpoint the problem, this method saves a lot of unnecessary expenses. The replacement pipes used in this method are non-corrosive and are resistant to roots, further reducing any future sewage backup risks.
Choose Broward Plumber for All Sewer Repair Needs
We are professional, licensed, and state-certified plumbers. We employ the use of plumbing inspection cameras to detect issues with our client's sewer lines and recommend long-lasting solutions. Our trenchless sewer repair service is budget-friendly and highly effective. We provide sewage backup cleaning service to Fort Lauderdale and all of Broward County. Give us a call for sewage backup detection and repair today at 954.516.7777 or visit our website.