4 Household Problems That Require Emergency Plumbing Services
Posted in Emergency Plumbing Services, on April 06, 2021
---
Let's face it, there's nothing worse than a plumbing catastrophe in your home! From burst pipes to sewage back-ups, plumbing disasters can severely damage your home and property. Too often, homeowners try to fix plumbing problems themselves, making it ten times worse! While DIY plumbing can work at times, some issues require an emergency plumbing service from a professional plumber in Boca Raton or Broward County.
Here are 4 common household problems that need an emergency plumber from a trustworthy plumbing company:
1. No Running Water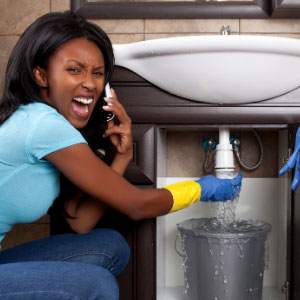 Running water is essential for the normal functioning of your home. Basic everyday activities like bathing, cooking, cleaning, etc., all require water, and lack of running water is a surefire plumbing emergency! Before speed dialing plumbing companies in Broward County, just check that your water main is not shut off or there is no scheduled maintenance in your locality. No running water may be due to a major leak or clog in your plumbing pipes, or you may have a broken valve. Whatever be the reason, you need to hire an experienced plumber to restore the water and your peace of mind!
2. Burst Pipes
A burst pipe is one of the most damaging plumbing disasters to strike your home. Pipes can burst due to excessive water pressure, weak, improper joints or corroded pipes. Often, digging or excavation work in the backyard or garden can trigger a pipe burst. A single pipe burst can cause up to 200 gallons of water to gush out! This can cause significant water damage, so you must call an experienced plumber in Fort Lauderdale or Broward County immediately. Turn off the water supply from your water main and dial 954-516-7777 for our emergency plumbing service. Broward plumbing has professional plumbers available 24/7 for all your plumbing emergencies!
3. Frozen Pipes
While Florida enjoys fantastic weather with relatively mild winters, the occasional freezing temperatures can catch homeowners unaware. With temperatures dipping to single digits or lower, the pipes around your home can freeze. Frozen pipes can expand, causing them to crack or burst easily. This can cause extensive water damage to your home and is another plumbing emergency that requires an experienced plumbing professional to fix.
4. Sewage Back-Up
A sewage backup is a serious plumbing emergency that must be handled immediately.
The backup can cause flooding of dirty sewage water inside your home, causing property damage as well as a potential health hazard. Raw sewage water contains harmful pathogens that can put you and your family at risk. With possible serious consequences, a sewage backup requires emergency plumbing service from an experienced plumbing professional. Persistent drain clogs, water pooling around sewer drains, foul odors, and gurgling sounds from your drains and toilets are some signs of sewer backups. Watch out for these to help prevent sewage disasters in the future.
The Best Emergency Plumbers for Your Boca Raton Property
If you are facing the above plumbing disasters or any other plumbing problem, you know you can count on the experience & expertise of Team Broward! Immediate response is critical in plumbing emergencies, and our emergency plumbing service is on call 24/7 to help you! Keep calm and dial
5
61-570-7777
or
954
-516-7777
to fix an emergency plumbing service right now!