Avoid Needing Emergency Plumbing Services with These Tips
Posted in Emergency Plumbing Services, on December 23, 2021
---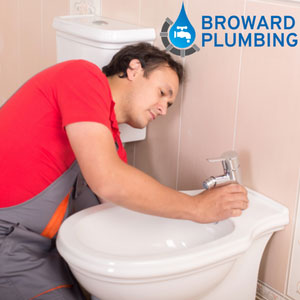 Whether you are an experienced homeowner or have recently purchased your first home, certain things are part of the homeownership experience. Occasionally you will need to call various plumbing companies because one of your water lines has sprung a leak, or you have left the water running too long and caused your pipes to freeze. If you have found yourself in this position in the past, you may want to avoid the costs of an emergency plumber in Boca Raton.
There are, however, several things that can be done to avoid these costly experiences.
When a plumbing emergency arises, you're going to want a licensed plumber in Boca Raton who can address the problem quickly, effectively, and professionally. It's your choice where you call--any of the top plumbing companies in Boca Raton offer 24-hour plumbing service, including Broward Pluming.
Regular Plumbing Services & Maintenance
Plumbing is an essential part of your home, but it can also be dangerous if you aren't careful when working with pipes and faucets. Take some time to learn a few plumbing tips and tricks that will save you time and prevent damage. If your home is making strange noises, you may have a plumbing problem. By identifying the culprit, you can fix the problem before it worsens and require emergency plumbing services. One excellent way to minimize your plumbing issues is to schedule regular maintenance appointments with a local plumber.
Here are some tips to help you avoid needing to call for emergency plumbing services:
Some people wait until a pipe bursts to get a plumber. We suggest getting infront of any potential plumbing problems! If you move to a new place, it's good practice to have a professional plumber look at your water pipes before you move in. This will allow you to have any leaks found and repaired before the moving van shows up.
Check your fixtures' knobs and faucet handles for difficulty turning them. This is a sign that your faucets may be loose, which leads to the problem of leaking water.
If you notice unusual sounds or leaking water around the faucets of your sinks, check the aerator to see if it's cracked or broken. If so, contact one of the plumbing companies in your area to immediately change it to avoid further damage to the faucet.
Check your fixture's hose for any cracks or kinks that may cause leaking water. Knotted hoses may also mean that there's a problem with the connector inside the sink trap.
If you have a main water shut-off valve, you should be using it when you know you will be away from your home for extended periods of time.
Avoid clogged drains by limiting the amount of toilet paper you use. Also, don't flush anything besides human waste and toilet paper. Doing this routinely can help prevent future clogs and other costly plumbing problems. If your toilet is constantly getting clogged, you should look closely at how you are using it. Do not flush any tissues or sanitary pads because these items do not dissolve and can clog your toilet.
The Best Emergency Plumbers in Boca Raton
If you require a plumbing emergency service, the last thing you want to do is have to wait for an extended period before a plumber company can service you. Broward Plumbing Company offers 24-hour emergency plumbing services for Broward County, Florida residents. So the next time you have a plumbing emergency, you know who you can contact!