The Benefits of Pipe Replacement Before Selling Your House
Posted in Pipe Repair, on August 03, 2023
---
When it comes time to sell your home, you typically undergo renovations to help sell it quickly. Oftentimes, homeowners disregard the piping system. Even though it can be beneficial to upgrade the home aesthetically, it's essential to consider its functionality, as no one wants to buy a home that isn't working properly. Call a professional plumber in Boca Raton from Broward Plumbing to assess if you need a pipe replacement. If the damage is not severe, they may recommend a cast iron pipe repair if you have a cast iron plumbing system. The goal is to sell your house at the asking price as soon as possible. Make that happen with Broward Plumbing.
Learn more about the benefits of pipe replacement below.
When to Replace Your Pipes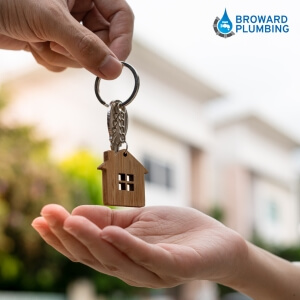 Many factors go into telling if your pipes are ready for a replacement. If you have cast iron pipes, those typically have a lifespan of 100 years; however, there are many faults to these pipes (corrosion, clogging, sagging). The safe bet is to replace them as soon as possible. Cast iron is not typically used in new builds, so most of them that we encounter, when it comes to cast iron pipe repairs, are aged a fair amount. Another indicator is if you are experiencing or have experienced leaks in your piping system. Eliminate recurring complications with your pipes by replacing them. Consult our professionals to choose the best piping material for your home.
Adding Value to a Home
When buying almost anything, people gravitate towards buying new rather than old. When buying a car, a new vehicle can seem more enticing as it has never been used, and the longevity of it is bound to be longer than a used car. This goes for plumbing systems too. Knowing that a piping system has been used for multiple years develops preconceived ideas that there are faults like leaks, corrosion, and other problems that can occur with wear and tear. With a new plumbing system, you can significantly increase the value of your home. Professional plumbers in Boca Raton can assist you in making it happen.
The Attraction for Potential Buyers
When making purchases as big as buying a home, we want everything to work correctly. A new piping system will help promote a home's functionality and say something about how the sellers take care of the home. The plumbing system is a small yet crucial part of the home, indicating the attention to detail of the previous homeowner. Potential buyers look for trusting homeowners to buy from to ensure they purchase a highly valued home.
Energy Efficiency
Potential buyers want to avoid paying higher water bills due to faulty pipes. They also don't want to use excess energy if they don't need to. Not only will this help your bank account, but it can help promote healthy living and not contribute to extra energy use.
Ensuring Home Safety
By replacing the pipes in your soon-for-sale home, you eliminate the risk of significant damage to the house. Aged pipes pose the risk of:
Pipe leaks
Floods
Water damage
Mold
Water-related damage is always one of the messiest cleanups due to the potential of reacting to bacteria and other contaminants. Rid yourself and potential homebuyers of this mess with pipe replacements.
Boca Raton Pipe Replacement with Broward Plumbing
Upgrading your plumbing system can significantly enhance your home's value and the success rate of your listing on the market. With Broward Plumbing, experience a smooth home selling process. Contact us now for an appointment to assess your pipes. Our professional plumbers will then help decide what your next steps are.