Benefits of Trenchless Pipe Repair In Boca Raton
Posted in Pipe Repair, on February 28, 2022
---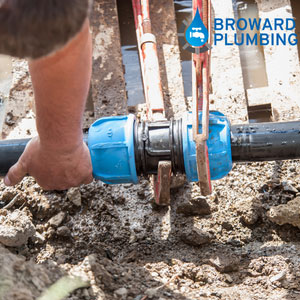 Clogged drains and broken sewer lines are amongst the worst things that could happen to your Boca Raton plumbing system. Even the most minor crack can cause extensive property damage, and complete rebuilds can cost thousands of dollars. Thankfully, modern trenchless pipe sewer line repair in Boca Raton has made lives easier for homeowners. In the past, broken sewer lines and blocked drains led to complete digging up and rebuilding of the affected infrastructure. However, modern trenchless pipe repair allows plumbers near Boca Raton to restore the pipes without the need for unnecessary and expensive excavations. Here's why you should consider trenchless pipe repair.
No Excavation Required
The biggest benefit of trenchless pipe repair is that no digging is required. Earlier, the Boca Raton emergency plumbers had to excavate almost the entire sewer line to get to the clog or crack. That meant enduring inconvenience due to extensive digging and repair work. This is where
trenchless pipe repair in Boca Raton can be a life-saver! It allows for repair work without the need for extensive digging. The plumbers just need to access the entry points of the pipes for carrying out repairs. This is a minimally invasive and less expensive way to replace or repair damaged sewer lines.
Fast Repairs
You don't have to put up with seemingly endless sewer line repairs with trenchless technology. As there is minimal digging, the time spent in unnecessary excavation is saved. Thus, repairs or replacements can be done faster. While pipe repair with conventional /services/emergency-plumbing-services-broward-county could take several days, a trenchless repair can be completed in a single day.
Better Functionality
Trenchless repairs can actually improve the functioning of your sewage system. Pipe liners with epoxy-resin coating can increase the flow capacity and ensure better water pressure. As the pipes have almost no seams or joints, it also creates an extremely durable line that will require very few repairs.
Cost-Effective
Undoubtedly, sewer line replacements and repairs are one of the most expensive plumbing issues. As trenchless repair is fast and less labor-intensive, one can save on prohibitive labor costs. A trenchless repair can be pretty cost-effective with minimal damage to outdoor features and landscaping. Additionally, better functionality can reduce the possibility of future maintenance, further decreasing the total cost.
Preserves Landscaping & Property
Sewer lines are primarily located under beautiful and expensive landscaping in the yard.
Traditional repairs require digging them up to reach the sewer lines. If the damage is under the floors, conventional repair methods would need the floor to be dug up! Trenchless repairs only require a few small pits to access the sewer lines, thus minimizing damage to property and landscaping.
Long-Term Solution
Trenchless repairs provide a long-term solution and are not just a quick-fix remedy. This advanced repair technology uses cured-in-place perma liners, epoxy resin, and seamless PVC piping. Repairs with epoxy lining reinforce the entire pipe, adding an additional layer for security. PVC pipes can last up to 50-100 years as they are free of rust or corrosion issues.
Trenchless Sewer Line Plumbers Boca Raton & Broward Plumbing
Avoid expensive repairs and damage to your Boca Raton plumbing with trenchless pipe repair and replacement from the pros at Broward Plumbing. We specialize in quick, convenient, and cost-effective plumbing solutions that last. Connect with us today to learn how you can benefit from trenchless pipe repair and other trenchless plumbing solutions!