Should I Buy a New Water Heater from a Retailer or a Plumber?
Posted in Hot Water Heater Repairs , on April 11, 2022
---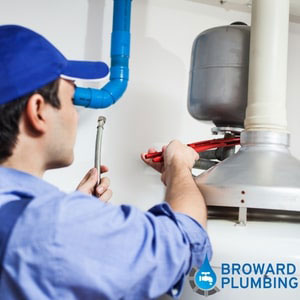 When making a major purchase like a new water heater, most homeowners are confused about buying from big-box retailers or professional plumbers in Fort Lauderdale. Online or retail purchases seem lucrative with a DIY appeal, installation cost, and deceptively low prices. But are they the best option? Before hitting the nearest big-box retail store, take some time to understand the difference between buying a water heater via retail versus a professional plumber.
Buying from a Retailer
Given the plethora of online retailers and home improvement stores, one is spoilt for choice in terms of the variety of water heaters available. Though the low prices and advertised discounts look attractive, is there a catch?
Water Heater Quality: The low retail prices offered at a discount may mean lower product quality. Low-priced water heaters may use less insulation, aluminum anode rods, plastic valves, and other inferior components. Such water heaters may be prone to malfunctions and need frequent hot water heater repairs.
Dodgy After Sales Service: Big-ticket retailers are often notorious for after-sales service. They are not forthcoming with queries once the purchase is made and do not usually provide installation services. Unless you are a DIY expert, you may eventually need to hire a professional plumber in Fort Lauderdale for installation.
Lack of Plumbing Expertise: Retail store employees are not professional plumbers, so they lack the experience and specialized knowledge about water heater systems. They may not have knowledge about the installation process or whether you may require additional plumbing work like rerouting gas or plumbing lines etc. So, you may not have actual professional advice when selecting your new water heater.
Buying From Plumbers In Fort Lauderdale
Purchasing a water heater from your local plumbing company means you have a plumbing expert guide you through the selection process. From understanding your household needs to proper size, installation, and future help, buying from your local plumber has many pluses.
Quality Water Heaters: Plumbing companies purchase their equipment through professional channels—manufacturers, wholesalers, and dealers. They can get excellent deals with higher quality equipment and components.
Professional Guidance: Your local plumber will know the specifics of water heaters suitable for your requirements. They can be an excellent consultant for evaluating features and models when making your choice. They can also provide expert advice on complicated water heater installations like switching from gas to electric or opting for a tankless unit.
Installation & Post Sale Support: When you purchase a water heater from a plumbing company, they also undertake the installation. A licensed plumber will install the unit and perform associated work like rerouting plumbing pipes, running gas lines, etc. You will also get post-sale support as plumbers typically provide a labor warranty with the model purchased. If your unit requires hot water heater repair in the future, it will be covered under the warranty term.
Don't Risk Retail; Trust the Experts at Broward Plumbing.
When your Fort Lauderdale home needs a new water heater, choose the pros at Broward Plumbing. Our licensed plumbers will work with you to assess your requirements to find the perfect water heater for your home. Be assured of quality work, fair prices, and 100% customer satisfaction for every job. Connect with us today for an estimate on equipment & installation or our expert residential/commercial plumbing services!
Save On Your Next Plumbing Service With Broward Plumbing!