Common Toilet Installation Mistakes Boca Raton
Posted in Toilet Repairs & Installations, on July 04, 2022
---
Plumbing installations require highly skilled and trained emergency plumbers in Boca Raton for a perfect installation and hassle-free toilets in the long run. Do it yourself (DIY) toilet installation and repairs can be a difficult task to complete if you aren't equipped with expertise or information on how to properly install one. A slight mistake can spell trouble and have you searching for plumbers near Boca Raton and Broward County on the net, draining time and money.
Broward Plumbing experts list some common plumbing missteps to avoid when installing a new toilet.
Not Draining Water Before Toilet Removal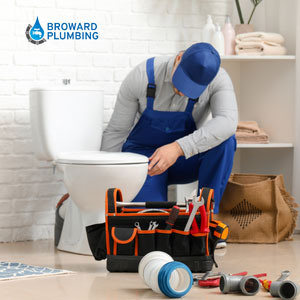 This may seem like a no-brainer, but properly draining the water is essential to prevent spillage and messy clean-ups. Turn off the water valve of your toilet tank and flush it once or twice. Any residual water may end up on the bathroom floor when the toilet bowl is removed. Blot excess water with a sponge & bucket, and remember to wear rubber gloves. You can place an old cloth or newspaper around the base to absorb excess water. Hiring a professional plumber can ensure that your floors remain dry and all the old toilet water is cleared out safely.
Forgetting to Measure the Water Line
While you may or may not require water line replacement, it is advisable to go for complete replacement if you're upgrading. When purchasing a replacement line for your new toilet, it is vital to measure the waterline length correctly. Your DIY installation can cost extra money and money if you fail to measure correctly. Trust the Broward experience and save yourself from unnecessary trips to the hardware store.
Incorrect Connection & Alignment
Proper alignment and slope of the toilet drain pipe are essential for good drainage and a working toilet system. Incorrect sloping angle and pipe alignment can lead to leaks and nasty backflows.
Incorrect Flange Height
A toilet flange connects the toilet system to the main sewage drain of your house. If the toilet is installed with a high sitting flange, you may end up with a rocking toilet or a broken flange. Remember to set the toilet flange at the optimum height above the flooring. Aim for around ¼ inches above the floor to allow any kind of wax ring to be used. If the bathroom has new tiles or flooring, the flange height can be slightly less than optimal. Adding a toilet flange extender can help achieve the required clearance from the bathroom flooring. The flange must be level and adequately secured to the floor.
Leave it to the Professional Plumbers Near Boca Raton
While it may be tempting to do minor plumbing projects yourself, toilet installation and repairs are best handled by experienced professionals. Replacing a toilet requires expertise and knowledge—one misstep can lead to unwanted blockages or leaks. Plus, you end up paying a plumber anyway. If your DIY toilet installation isn't going as planned, don't waste time searching for plumbing companies near me on google. Trust the pros at Broward Plumbing to finish the job for you! Our licensed and trained plumbers are available 24/7 to repair and install your toilet at the most competitive rates. Broward Plumbing also undertakes general plumbing repairs, water leak detection, hot water repair, sewage and drain cleaning, water damage detection, water line repiping, and sewer line repairs.
Say goodbye to plumbing woes; connect with a plumbing expert at Broward Plumbing for toilet installation today!