How Cast Iron Pipes Can Increase Your Business Costs
Posted in Pipe Repair, on May 18, 2023
---
Cast iron was the material of choice for plumbing pipes over fifty years ago. Thought to be durable and long-lasting, cast iron pipes were used for residential and commercial properties. After some time, cast iron pipes were shown to be susceptible to rust and corrosion, causing leaks and blockages needing urgent cast iron pipe repair. Cast iron pipes are now plaguing property owners with constant problems and emergencies requiring the help of a professional plumber near Boynton Beach. Cast iron pipes can increase the cost of running your business over time with their constant need for repairs. Broward Plumbing is a licensed plumber with extensive experience repairing cast iron pipes and helping property owners with all their plumbing issues.
Read on to learn how cast iron pipes can increase your business costs.
Cast Iron Pipe Repairs Increases Business Costs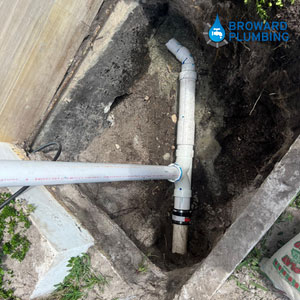 When business owners create their annual budgets or predict their business expenses, we might consider things like worker's pay, products, shipments, and mortgage/rent costs plus utilities. Rarely do business owners think of plumbing repairs or plumbing emergencies in their expense predictions. However, if you operate on a property over 50 years old, you should prepare to deal with cast iron pipe repairs. Cast iron pipes are notorious for becoming defective and requiring constant maintenance for various issues.
Firstly, cast iron pipes suffer from corrosion and rust over time which leads to a belly in the pipes, which defects the pipes and causes drainage issues, this will require the attention of a plumber near Boynton Beach.
Cast iron pipes are also prone to calcium and limescale deposits; leading to sewage backup. Sewage backups are a severe plumbing issue and, left unchecked, can lead to a plumbing emergency.
Why It's Worth Switching to PVC Pipes
Suppose you are aware your business has cast iron pipes on the property. In that case, you have the option of scheduling routine preventative maintenance to help keep issues from occurring and extend the longevity of your pipes.
Alternatively, switching your cast iron pipes to PVC pipes might be worth considering. This will increase the value of your property and save you the hassle and constant worry of dealing with frequent plumbing issues from cast iron pipes. PVC pipes are cost-effective over the long run and provide a range of benefits to your plumbing system.
Property owners upgrade to PVC pipes as they are corrosion resistant, reduce blockages and improve water quality while increasing the longevity of your plumbing and having everything work more efficiently.
Broward Plumbing for Cast Iron Pipe Repair and Replacement
Broward Plumbing provides a qualified team and uses the most advanced technology on the market to address all of your plumbing issues. We are available 24 hours a day, 7 days a week, to handle any emergency. We are licensed and insured and provide a warranty on repairs and installations. We have become a trusted plumbing partner in the community because we provide upfront pricing and exceptional customer service.