Avoid Emergencies with Regular Drain Pipe Inspections
Posted in Emergency Plumbing Services, on March 25, 2022
---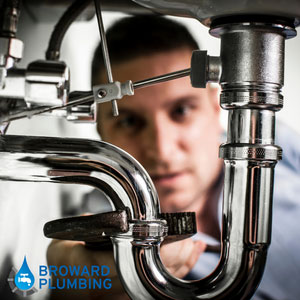 Most people only call plumbing companies when they need an emergency plumbing repair. But what if you could avoid those emergencies altogether by having regular drain pipe inspections? That's where Broward Plumbing comes in. We're a professional plumbing company with teams of highly qualified and experienced plumbers that utilize advanced technology. We offer high-quality plumbing solutions, for commercial and residential properties.
One of the services we provide is regular drain pipe inspections. By having regular inspections, you can catch any potential problems before they turn into need an emergency plumbing repair. This can save you time, money, and a lot of hassle. And if there is an emergency, we're here for you 24/7 with quick response times and flexible service options.
So if you're searching online for reliable "plumber near me in Boca Raton", Broward Plumbing is the right choice.
How Do You Know If Your Drain is Blocked?
Are you experiencing slow drainage, gurgling noises or bad smells coming from your drains?
If so, then you may have a blockage. There are a number of reasons why drains can become blocked, but most often it's either a build-up of fat, grease and oils or tiny objects such as hair, food particles and toilet tissue. In some cases, the blockage can be caused by a structural problem with the pipes, such as a collapsed pipe, while in others it may be down to poor installation.
If you're not sure what's causing your blockage, then our team of expert plumbers can help. Our plumbing company uses the latest technology to locate and remove any blockages, and we offer a range of services to suit all needs and budgets. So if you're experiencing problems with your drains, give us a call today and let our plumbers help you get them flowing freely again.
Common Causes of Drain Blockages
Here are some of the most common ones:
Tree roots in drains: roots of trees growing in your garden or yard can grow through pipes and cause blockages. If you have a tree near your house, make sure to keep an eye on the roots and call a plumber if you notice any problems.
Foreign objects in drains: sometimes things like hair, food, grease, and other debris can get caught in drains and cause blockages. Make sure to throw away your trash properly and don't pour grease down the sink to help prevent this from happening.
Clogged drains: drains can sometimes get clogged up with dirt, mud, and other materials, which can cause water to back up and overflow. Be sure to clean your drains regularly and use a plunger if you notice they're clogged.
Sewer backups: if your home's sewer system becomes backed up, wastewater can overflow and come up through your drains. This can be a serious problem and should be fixed by a professional immediately.
Damaged or broken pipes: if a pipe becomes cracked or damaged, it can easily become blocked. If you notice any water leakage or strange noises coming from your pipes, call a plumber right away.
Bad plumbing: if your plumbing is faulty or outdated, it can lead to blockages. If your drains have flat spots, this can cause them to become blocked as the water will not be able to flow through them properly.
Find a Plumber in Boca Raton
If you're having trouble with your drains, it's best to call a professional plumber for an emergency plumbing repair. They'll be able to identify the cause of the blockage and will have the tools and expertise to clear it quickly! Contact our plumbers at Broward Plumbing today!
Save On Your Next Plumbing Service With Broward Plumbing!