How to Check For Plumbing Problems When Buying a New Home
Posted in General Plumbing Services, on December 28, 2022
---
Buying a new place and moving in can be incredibly exciting. It's the culmination of a long cherished dream for most homeowners. However, there are many critical factors that you must consider before finalizing the deal. For example, identifying potential problems like pesky plumbing issues is essential to estimate the cost of future repairs & maintenance. Encountering leaks and old plumbing pipes after moving in can cause trouble and expensive re-piping work. Before you make this life-altering decision, look for signs of potential problems and contact your local plumbing experts for a home plumbing inspection and follow-up plumbing services. A professional plumber in Fort Lauderdale can scrutinize the property for plumbing flaws so that you can be aware and negotiate the sale accordingly. As the resident plumbing experts, here are Broward Plumbing's red flags to watch out for before purchasing a home in Fort Lauderdale.
Old Plumbing Pipes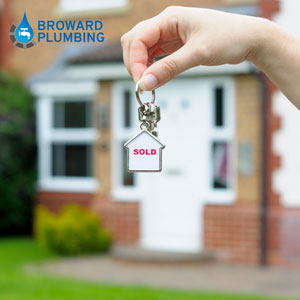 One of the first things to check is the type of pipes used in the property. Older homes, especially the ones built 30-40 years ago, may have lead, cast iron, or galvanized pipes. While lead is a health hazard, cast iron and galvanized iron pipelines can rust and erode over time. This can cause potential cracks, leaks, and pipe bursts. It is highly recommended to call an experienced plumber in Fort Lauderdale to check the age of the plumbing. If the plumbing system is old, you can ask the seller to re-pipe the house or factor in the cost of pipe replacement while finalizing the sale.
Toilet Trouble
Ensure that all the toilets are checked thoroughly for any problems. Inspect the internal flush mechanism and verify that it is working correctly. If water doesn't drain properly or keeps running after flushing, there may be an issue with the gasket or flapper. Look at the base for discoloration or signs of moisture, as these can be warning signs of a leak or other extensive plumbing issues.
Sewage Drains
Inspecting the sewage system is critical to rule out leaks, cracks, sagging, clogs, tree-root infestation, and other issues. Getting plumbing experts to check the sewage lines and carry out a drain video camera inspection is the best way to assess the health of the sewage drains and the health of the plumbing pipes.
Low Water Pressure
Low or fluctuating water pressure in the house is another red flag. Turn on faucets/showers in the house to ensure adequate water pressure. Use multiple taps simultaneously to see that the pressure does not drop when more water is used.
Old/Faulty Water Heater
The average life span of a hot water heater is around 8-10 years. Check when the existing water heater was installed. If it is past its expiration date, replace it with a newer, energy-efficient model. Look for signs of leaks or corrosion around the tank. Checking the faucets to see the time taken to heat up the water will also indicate the working of the hot water appliance. There might be issues with the heater if it takes longer for warm water to flow through the faucets and showers.
DIY Plumbing Fixes
Look for DIY plumbing fixes undertaken by the existing owner. A reliable plumber in Fort Lauderdale will be able to check such repairs and ensure they were done correctly. You surely don't want to incur expensive repair bills as soon as you move in!
Book Your Plumbing Inspections in Fort Lauderdale & Broward County
Identifying plumbing issues before signing the dotted line can save a veritable fortune on future repairs. It will also ensure your dream home is safe and habitable. Hire the plumbing experts at Broward Plumbing to thoroughly inspect the plumbing and heating system in the home you're considering. We've been proudly serving residents in Broward county for decades.
Our team of certified professional plumbers in Fort Lauderdale can tackle all plumbing issues in your new home.