How to Clean Hair Out of a Drain
Posted in Drain Cleaning , on September 04, 2020
---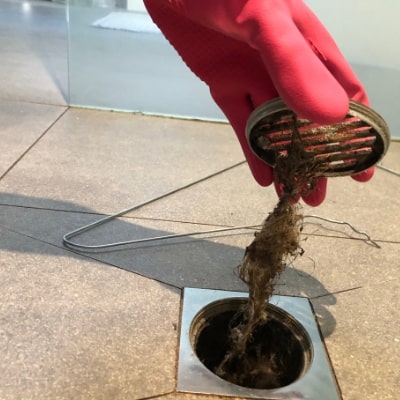 Hair and other debris can easily be caught in the drains of showers and sinks. Over time, this trapped hair and debris can clog drains and either completely block water drainage or make your tub or sink drain slowly. Our plumbers in Boca Raton and plumbers in Fort Lauderdale are constantly called about how they can fix clogged drains. In this blog post, we have outlined several strategies to clear your sink or shower of hair and help the water drain properly. However, if none of these strategies work, it might be time to search for a 'plumber near me' and hire the professional help of a plumber and get a plumbing camera inspection or sewer camera inspection.
Baking Soda and Vinegar
The household staples baking soda and vinegar are miracle workers when it comes to blocked drains. Simply combine equal parts baking soda and vinegar (we suggest starting with 1/3 cup of each) and then pour it down the drain as soon as it starts to fizz. After waiting for an hour, run hot water through the drain and see if your drainage has improved.
Tweezers or Coat Hanger
To physically remove hair and debris clogging the drain, remove the plughole. Then, using tweezers, a wire coat hanger, a pencil, or another thin object, grasp the clump of hair and remove it from the drain. Next, run hot water through the drain to remove any loosened dirt and grime and your drain should be returned to normal function.
Hair Removal Cream
A handy trick that is a bit more expensive than other options; hair removal cream can be used to dissolve hair trapped in your drain. Simply dump a full container of hair removal cream into your drain and allow it to sit for 30 minutes. Then, run hot water down the drain to clear it of dissolved hair.
Plunger
This is a useful strategy when grime and soap are clogging sink or shower drains. A plunger can be used to remove more deeply embedded clogs and debris. Simply use the plunger as you normally would: cover the drain and pump up and down to dislodge the blockage.
Choose the Certified Plumbers Near You
If you are unable to clear the blockage affecting your sink or shower drain, it may be time to call a professional. A plumber will be able to assess the situation and clear the blockage or repair any damage, depending on the scenario. Sometimes a clogged drain is simply due to built-up hair, other times it is due to a more serious blockage. With a plumbing camera inspection or sewer camera inspection, your plumber will be able to visualize the blockage and assess any damage that may be affecting your pipe. Then, they will be able to strategize a plan to repair the damage, remove the blockage and restore the function of your sink or shower.
At Broward Plumbing, we provide professional plumbing services to the Broward County, Florida area. We currently provide both emergency services and scheduled services to fix both common and emergency plumbing issues. For more information on any of our services, or to book a sewer camera inspection, contact our team at 561-570-7777.
Save On Your Next Plumbing Service With Broward Plumbing!