How to Deal With Clogged Drains
Posted in Drain Cleaning , on August 07, 2020
---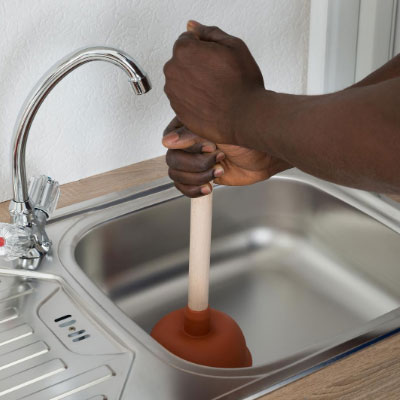 Brushing your teeth one night you may notice the water in your sink is not draining properly. This is a common problem that usually affects homeowners with frequently used kitchen and bathroom sinks, but it can also affect bathtub and shower drain. Although some clogged drains can be dealt with using supplies from around your home, serious blockages may require professional plumbing services. An emergency plumber can help you deal with a clogged drain in no time and ensure that your sink, shower, or tub continue to function smoothly. Below we have outlined some of the at-home remedies for fixing a clogged drain. Of course, if none of these solutions work, it may be time to hire a professional emergency plumber near Boca Raton.
Plunger
Many homeowners have a plunger handy to fix clogged toilets. However, plungers are also useful for fixing clogged drains! Simply use the plunger exactly as you normally would: completely cover the drain and pump up and down to remove the clog. A standard toilet plunger can be used or a mini plunger can be purchased that more snugly fits sink drains. We recommend cleaning your plunger before and after use to ensure that your sink remains clean and safe for use.
Hot Water or Chemical Cleaner
Another great solution for a clogged drain is to use a chemical, such as Drano, in combination with hot water. Most grocery stores and hardware stores carry household chemicals that can eliminate possible debris that is clogging your sink or shower drain. Easily follow the directions on the back of a Drano or other chemical product bottle to unclog your drain. Usually, this involves letting the drain soak in the chemical before running hot water through it for a period of time. This should help eliminate any backups that are making water drain poorly or are blocking the drain. Usually, this method is highly effective for removing built-up soap scum, makeup, and hair that frequently clog bathroom sinks. If this solution does not work, you might be dealing with a more serious blockage.
Drain Snake
A drain snake is a common household product to help physically remove blockages. Usually, these tools are helpful for removing built-up hair that is clogging your drain and preventing water drainage. Some homeowners even choose to use a drain cover that collects hair in your shower before it can clog the drain. This can help prevent the occurrence of frequent drain blockages.
Hire an Emergency Plumber in Boca Raton & Broward County
If none of these DIY solutions can unclog your drain, it may be time to call an emergency plumber. At Broward Plumbing we offer a range of plumbing services to the Broward County, Florida area. In addition to fixing clogged drains and pipes, our team of expert technicians can help with water damage and floods, hot water heater repair and emergency repairs. Our 24-hour emergency plumbing service can be reached at 954-516-7777 and can help fix your toughest problems. For more information on any of our services or to discuss your plumbing options, contact the Broward Plumbing team at 561-570-7777.