What to Do When Your Dishwasher Does Not Drain
Posted in General Plumbing Services, on June 08, 2020
---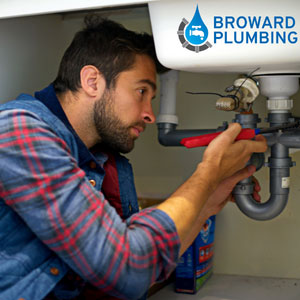 Any homeowner knows that their dishwasher is one of the best parts of their home. After a long day, the last thing you want to do is clean dishes. Unfortunately, many people do not realize how much they rely on their dishwasher until it breaks. Dishwashers are truly the powerhouse of the kitchen, saving us both time and energy. But what do you do when you find that your dishwasher is not draining after loading an entire day's worth of dishes besides searching online for a plumber near Boca Raton. In this blog post, we will discuss some of the steps to take after discovering your dishwasher is no longer draining and how to find 24/7 emergency plumbing services.
Try Running the Cycle Again
A dishwasher can be accidentally turned off during its cycle, resulting in water building-up in the bottom of the appliance. This could be caused by a power outage, power surge, or even someone opening the dishwasher during its cycle. One of the best first steps to trouble shoot your water build-up is to try to run the cycle again. If this does not work, you can try some of the tips below before calling in professional help.
Run Your Garbage Disposal or Check Your Sink's "Air gap"
Your dishwasher hose will connect either to your garbage disposal drain or directly to your sink depending on the type of sink in your house. A great first step is to try turning on your water tap and running the garbage disposal for 15 seconds to ensure any food or debris that is caught can flush through the pipes. If you do not have a garbage disposal, try removing the air gap (a small cylinder near the top of the sink). The air gap can be removed and cleaned with water and a brush to remove any built-up debris.
Check the Draining Basket and Draining Hose
If cleaning your sink does not do the trick, it is time to try cleaning your dishwasher draining basket and checking on your draining hose. Inside the dishwasher, the draining basket is found at the bottom. Simply remove the cover and scape out any built-up food or debris. You will then be able to try to run your dishwasher again. Additionally, under the sink is the draining hose which connects to your sink. If something large or heavy is placed under the sink, it can block the hose and prevent your dishwasher from draining properly. If you find the hose and it is kinked, try to remove the kink by hand and then run your dishwasher again.
Call an Experienced Plumber in Boca Raton
If these simple at-home tricks are not able to fix your dishwasher, it might be time to call for professional help. An emergency plumber can be called anytime of day to come investigate the problem and fix your dishwasher. At Broward Plumbing, our professional licensed plumbers are available 24/7 to help you with any emergency plumbing services. A 24-hour emergency plumber can help you fix your dishwasher so you can continue to save time and energy cleaning your kitchen. For more information, contact us today.
Save On Your Next Plumbing Service With Broward Plumbing!