How to Spot Signs of Trouble with Water Heater Valve
Posted in Hot Water Heater Repairs , on November 25, 2022
---
The hot water heater is a silent workhorse that makes your morning household routine super convenient. All housework can come to a stop without a proper hot water supply. However, water heaters are not infallible—they can malfunction and require regular maintenance and repairs. One common reason you may find yourself searching for a plumber near Boca Raton and Broward County is trouble with the water heater valve. Most homeowners can't detect such problems independently—still, the trusted plumbers at Broward Plumbing can help you stay on top of water heater repair. Here is how you can spot signs of trouble with your water heater valve.
Water Heater Valve Function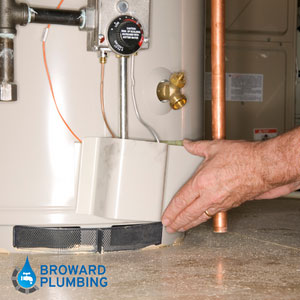 The Temperature & Pressure valve (T&P valve) is a small pipe that extends from the side or top of the water heater tank. It is a critical safety feature of your water heater that prevents excessive pressure build-up in the tank. The valve relieves pressure in an over-pressurized hot water tank by releasing water. This helps in averting a potentially hazardous situation.
Signs of Water Valve Trouble
Following are the possible warning signs of a faulty water valve:
Flooding: If water is gushing out from your T&P valve, immediately shut off the water supply and contact a trusted plumber for water heater repair.
Excessive Leaking: While a pressure valve is meant to leak water to release excess pressure, it should not be too much or too often. If considerable water is released, it's an indication that the valve cannot hold the required pressure. Or it could also indicate very frequent overheating.
Excessive Noise: If your water heater is making a high-pitched whistling sound or rattling, it is probably the noise of steam escaping from the tank. This means there is excess pressure inside the tank, and the faulty T&P valve may need replacement.
Debris: A significant amount of debris in the water is another sign of a defective relief valve.
How to Check Water Heater Pressure Relief Valve
Before you search for a plumber near Boca Raton, conduct a small test to ensure that the water valve is indeed the culprit.
Remove the drain pipe attached to the valve. You may need a plumbing wrench for this. Keep a bucket or heat-safe bowl underneath to catch the excess water.
Carefully lift the lever slightly. Remember not to overdo it—lifting it too high will lock the lever!
Check for a small trickle of water from the tank. If there's no water released from the valve, it indicates a faulty valve that needs to be replaced.
Plumbers in Boca Raton for Emergency Water Heater Repair
A malfunctioning pressure valve is a safety hazard and poses a significant risk to you and your home. Never ignore a faulty valve—Call a competent plumbing professional to thoroughly inspect your heating unit. If you need emergency hot water repair and are searching the net for a 'plumber near me,' remember that you can contact the local experts at Broward Plumbing! Our team of certified plumbers will inspect, diagnose, and repair all issues with your water heater to ensure it's safe for use again. With years of emergency and standard plumbing services across Broward county & Boca Raton, you can count on the pros at Broward Plumbing! Call our emergency plumbers near Boca Raton for urgent water heater repair or schedule a preventive maintenance appointment today!