How Trenchless Sewer Repair Can Save You Trouble
Posted in Sewer Line Repair, on May 17, 2023
---
Sewer line issues are every homeowner's nightmare. From nasty odors to backed-up drains and invasive digging, sewer problems can disrupt your daily life and lead to costly repairs. Luckily, trenchless sewer repair is a modern solution that can save you from the hassle and expense of traditional sewer line repairs. Broward Plumbing's expert plumbers in Fort Lauderdale can undertake seamless repair work without tearing up your yard!
Keep reading to discover the many benefits of trenchless sewer repair with the leading emergency plumbers in Broward County.
Signs You Need Sewer Repair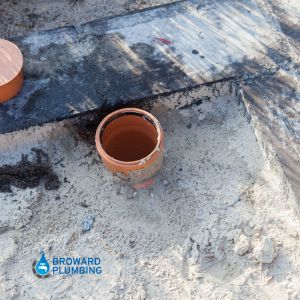 Early detection of sewer line issues is critical for timely repairs. Some common signs indicating the need for sewer repair include:
Slow drainage
Persistent clogs
Gurgling sounds from the toilet and sink
Foul odors in the home or yard
Sewage backups
Do not ignore these red flags––act promptly to prevent water damage and further deterioration of your sewage system. Broward Plumbing's experienced plumbers in Fort Lauderdale can diagnose the problem accurately and recommend the most viable solution, including pipe replacement and trenches sewer repair.
Common Culprits Behind Damaged Sewer Lines
Understanding the root cause behind sewer line damage can help prevent future issues. Sewer line deterioration can be caused by aging pipes, tree root intrusion, corrosion, and shifting soil. Over time, these factors can cause cracks, leaks, and complete pipe collapse. Regular maintenance and inspections by Broward Plumbing's team of certified plumbers in Fort Lauderdale can identify potential problems early on for prompt repairs and prevent costly sewer line emergencies.
Trenchless Sewer Line Repair: The Modern Solution
Trenchless sewer repair is a revolutionary alternative to traditional plumbing excavation, invasive digging, and property disruption. It's a less intrusive technology that repairs and replaces damaged pipes with minimal excavation. Trenchless repairs may include CIPP(Cured In Place Pipe) Lining, pipe coating, and pipe bursting.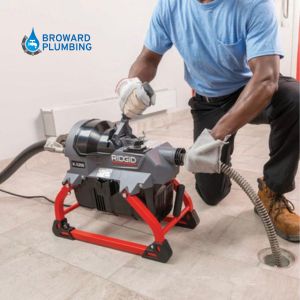 The significant advantages of trenchless sewer line repair are:
Less Intrusive: As it requires minimal digging, there's less damage and disruption to surrounding areas.
Effective & Convenient: Unlike time-consuming and inconvenient traditional plumbing methods, modern trenchless repairs are quick and efficient. There's lesser time spent on hauling water or inconvenience due to relocation during ongoing repair work.
Cost-effective: Minimal excavation means less labor, reduced time, and significantly lower costs. With trenchless technology, damaged pipes are seamlessly repaired or replaced using advanced pipe lining and pipe bursting methods. This ensures a long-lasting and effective solution at a minimal cost.
Improved Functioning: Larger pipes and advanced pipe lining can increase flow capacity and improve the functioning of the sewer system.
However, the choice and type of trenchless sewer repair depends on pipe condition, depth, location, and extent of damage.
Trained Expertise and Cutting-Edge Plumbing Solutions
Choosing a trusted and experienced plumbing company for sewer lines and other plumbing repairs is crucial. With years of industry experience, skilled technicians, and cutting-edge plumbing tools and technology, Broward Plumbing is your go-to expert for effective sewer solutions and trenchless sewer line repair. We pride ourselves on our trained team of plumbers in Fort Lauderdale, providing efficient, non-invasive solutions that minimize property disruption for a reliable sewer system. Customer satisfaction, transparent pricing, and quality workmanship set us apart as the premier choice for sewer line and general plumbing services across Broward County. Embrace the benefits of trenchless sewer line repair with Broward Plumbing. Call now for fast, reliable, and professional plumbing solutions!