How Plumbers In Fort Lauderdale Spot Water Leaks
Posted in Water Leak Detection, on May 02, 2022
---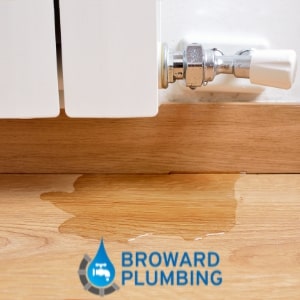 While all plumbing problems are a nuisance, water leaks can wreak havoc. A burst pipe can interrupt your daily activities, cause water damage and make your life difficult. While some leaks are apparent, hidden leaks can be challenging to locate and treat. Luckily, our plumbers at Broward Plumbing know where to look and how to spot water leaks quickly. If you suspect a leak, it is imperative to call a reliable plumber in Fort Lauderdale for water leak detection services to tackle the problem ASAP. Here's a quick guide to water leaks and how our plumbers spot and fix them.
What Are Water Leaks?
A water leak is when water escapes from a pipe or other water source. It can be termed as the gradual loss of water from a water source or system.
Why are Water Leaks a Problem?
Water leaks can be a problem as they can cause mold, water damage, and other associated issues. If left untreated, even a minor plumbing leak can snowball into a big plumbing problem. Apart from astronomical water bills, water damage from leaky pipes and subsequent cleanup can be an expensive affair. You'll need to repair the water leak, clean up and get the flooring, walls, and other equipment fixed or replaced.
How Plumbers Near You Spot Water Leaks?
Our plumbers in Fort Lauderdale come armed with experience and superior technical knowledge when you hire Broward Plumbing for water leak detection services.
The plumber will first carry out a thorough inspection of your plumbing system to identify the source of the leak. This includes checking the fixtures, pipes, pool, and irrigation system. Once surface leaks and fixtures have been ruled out, the plumber will look for hidden underground leaks or pipe leaks within the walls. This can be done using professional sound detection tools to 'listen for leaks'—running water sounds. Electronic leak detection uses the principle of acoustics or sound. All leaks produce a sound, and the electronic device picks up the sound waves and transmits the location of the originating site. Pipe locator clamps can also be used on the visible pipes to charge them by transmitting a radar signal to locate the leak.
Another non-invasive way to locate hidden leaks is using special robotic drain cameras. A camera line will be inserted into the plumbing pipes to pinpoint leaks in the wall or underground drains. This can help identify the exact location of the leak without having to cut open tile flooring or drywall. We also use moisture meters to lead us to excess moisture locations for spotting a leak. This device works over wood, concrete, drywall, tiles, and flooring. Once the leak is diagnosed, the plumbing technician will repair it effectively.
Water leaks can be a major problem, but there are ways to spot and fix them. If you suspect a water leak, contact an experienced plumber for water leak detection and repair at the earliest!
Say Goodbye to Water Leaks with Broward Plumbing's Plumbes in Fort Lauderdale
At Broward, our expert plumbers can diagnose and fix all kinds of leaks and other plumbing issues that you may be facing. Whether it's an emergency or a holiday, trust Broward Plumbing to go the extra mile to serve you! Contact us today for professional water leak detection or 24/7 plumbing services in Broward County and Fort Lauderdale.