The Benefits of Sewer Camera Inspection
Posted in General Plumbing Services, on July 09, 2020
---
Not every plumber near Boca Raton or Broward County offers sewer camera inspections. But those advanced plumbers like the Broward Plumbing team are equipped with leading technology that enhances the effectiveness of our general, expansive, and emergency plumbing services. A sewer camera inspection utilizes a camera at the end of a flexible, snake-like device that allows your plumber in Boca Raton or Broward County to visualize the inside of your pipes. This is the best way for your plumber in Fort Lauderdale or Broward County to visualize and diagnose clogs, leaks, or any other damage affecting your plumbing system. When it comes to sewer repair, these inspections are necessary to diagnose problems efficiently and accurately. Below we have highlighted a few of the many benefits of a sewer camera inspection.
Benefits of Sewer Camera Inspection
Locate a Water Leak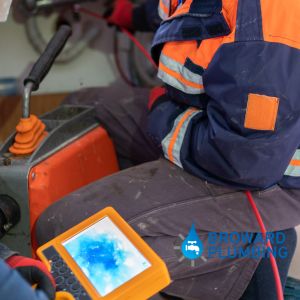 Water leaks can sometimes be obvious and messy, but other leaks can be subtle and difficult to locate. If you notice a significant change in water pressure or an unexpected increase in your water bill, it could be a sign of a hidden water leak. With the help of a sewer camera inspection, your plumber will be able to locate the hidden water leak so it can be fixed with as little time and money as possible. If left undetected, your water leak can end up causing major damage to your home before you notice the issue.
Reduce Unnecessary Construction
If your plumber is unable to precisely locate the leak or damage, you may spend a lot of time and money digging and exploring for the problem. With a sewer camera inspection, your plumber will be able to finish your sewer repair with minimal disruption to your home or yard.
Assess the Condition of Your Pipes
Usually, the plumbing of your home is inaccessible. For the most part, when we use the sink, shower, or toilet we do not necessarily think of the drainage. If you are moving to a different home or have an older home, it is a good idea to get a sewer camera inspection to determine the condition of your pipes. This inspection can help locate damage or corrosion before it results in a messy leak that will be expensive to repair.
Video Evidence for Insurance
One of the best benefits of a sewer camera inspection is the video footage of your pipes and the plumbing problem. This is a great asset for communicating the damage to your insurance company to get your reimbursement for the repairs. Footage of the issue is difficult to refute when it comes to reimbursement of plumbing expenses.
Identify Necessary Repairs
The number one reason homeowners choose to get a sewer camera inspection is to identify problems that are out of sight. These inspections allow your plumber in Boca Raton to easily visualize the inside of your pipes and locate damage, corrosion, leaks, or other problems that need to be fixed.
Leading Plumbers in Boca Raton & Broward County
At Broward Plumbing, our experienced technicians provide a range of plumbing services, including sewer camera inspections. Our plumbers have seen time and time again the benefit of sewer camera inspections and how they are revolutionizing the plumbing industry. We currently provide routine and emergency plumbing services for the Broward County and Southern Florida areas. For more information or to book your sewer camera inspection today, contact us at 561-570-7777.