The Most Common Hidden Plumbing Leaks
Posted in General Plumbing Services, on February 19, 2021
---
Almost every homeowner has to deal with plumbing leaks at some point. A common plumbing issue, leaks occur in pipes, toilets, drains, bathrooms, sinks or showers. However, all leaks are not as apparent as a leaking faucet or shower. Apart from shooting up your water bill, these annoying leaks can damage your walls, paint, and floors. Spotting hidden leaks and going for plumbing leak repair before they spiral out of control is the key to preventing costly repairs and damage. Broward experts list some common hidden plumbing leaks that require an experienced plumber near you in Boca Raton.
Corroded Pipes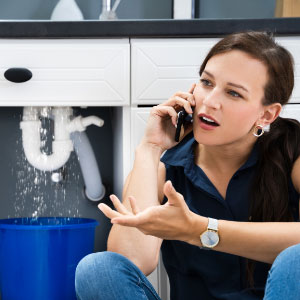 Most modern piles are made to last, but they do have metallic parts. Though they have anti-corrosive treatments, with time and use, these treatments wear out. This leaves your pipes vulnerable to rust & corrosion. These corroded pipes may rust, crack, or develop holes leading to water leaks. If you notice any water discoloration or signs of rust/warping, immediately contact a trustworthy plumbing company to assess your pipes. Older plumbing systems are at high risk of corrosion, and it is advisable to get the pipes replaced.
High Water Pressure
A plumbing system should have a water pressure of around 60 psi( pounds per inch). If the water pressure is higher than 80 psi, it can lead to multiple pinholes in the pipes. The pipes can even burst, causing immense damage to your home. High water pressure can be caused by a faulty regulator or clogs in the pipes. Call an expert plumber to check your water pressure and carry out the necessary plumbing leak repair asap!
Toilet Leaks
Another common problem is a leaking loo and almost 25-30% of residential toilets leak! Toilets are used practically every day, and the last thing you need is toxic water waste seeping into your bathroom. Be prepared and regularly check around your toilet for leaks or dampness. If you find any signs of water leakage or wetness around the base, it is best to contact your local plumbing companies for a qualified plumber.
Under Sink Supply Leaks
Another hidden yet common leak is under your bathroom or kitchen sink. We rarely look under the sink, and behind all the bottles & supplies, a leak under it can go unnoticed. Clogs, loose joint connections and corroded pipes can cause holes and fissures in the plumbing pipes leading to leakage. You should check for signs of moisture or puddles under the sink regularly as an undetected leak can cause the wood and floor to rot, besides damaging appliances.
Suspect a Hidden Water Leak in Boca Raton? Call Our Plumbers
Contact the pros at Broward Plumbing for a licenced plumbing professional to inspect & repair any hidden leaks. The most trusted amongst all plumbing companies in Broward County. Broward Plumbing promises prompt, reliable & affordable plumbing services and emergency plumbers in Boca Raton. Don't let a water leak ruin your day!
Just call us on 954.516.7777/561.570.7777 for professional plumbing leak repair. We're available 24/7 for all your plumbing issues and emergencies!