Top Reasons to Hire a Broward County Plumber
Posted in General Plumbing Services, on May 03, 2021
---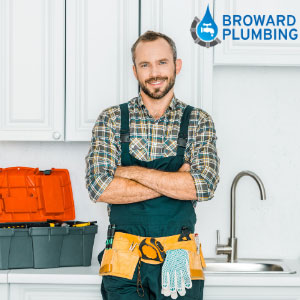 When looking for a plumber in Fort Lauderdale or Broward County, many people rely on recommendations from friends and family. However, choosing plumbing companies in Southern Florida through random recommendations is not always a great idea. Without thoroughly investigating your different plumbing options, it may cost you in the long run. The most important thing to consider for an emergency plumber near you in Florida is their level of experience. So how do you know where to begin? Here's what to keep in mind while looking for a plumbing company in Broward County and searching for a 'plumber near me'.
Leaky Faucets
A leaky faucet is more than just an annoying sound in the middle of the night, and it can also increase your water bill. If you have tried everything to stop your dripping faucet, it might be time to get professional help. Consider the experience level of plumbing companies in Florida before deciding which plumber to hire for your faucet.
Clogged Drains
You may notice over time that a bathroom or kitchen sink is not draining anymore. Food, hair and make-up products can all build up in drains and prevent water from properly draining over years of use. If household cleaners are not doing the trick, it might be time to hire a professional plumber in Boca Raton or Broward County.
Water Damage in Ceiling
After a terrible ran storm or an overflowed bathtub, you may notice water leaking through your ceiling. However, if you see water damage and are not sure about the source, it is probably time to call an emergency plumber in Florida. Your emergency plumber will be able to determine the source of the water damage and repair it before it can get any worse.
Broken Water Heater
There is nothing worse than an unexpected cold shower. If the hot water shuts off while you are showering, it is a miserable experience. You will need to replace a standard water heater after about 8 to 12 years. If you find you are experiencing cold showers or your showers are not staying warm for long enough, you may need to repair or replace your water heater. Plumbing companies in Florida can help you browse different water heaters or repair the damage to your existing heater.
Broward Plumbing is Your Trusted Plumbers Near Boca Raton & Fort Lauderdale
When it comes to experienced plumbing companies in Florida, look no further than Broward Plumbing. We are a local, family-run plumbing business that provides routine and emergency plumbing services in Broward County and surrounding areas. Our entire team of technicians are licensed, insured, and certified and always prioritize the satisfaction of our valued clients. Whether you are looking to repair a leaky faucet or deal with a plumbing emergency, you can trust the Broward County team to fix your issue in no time.
Our emergency service is available 24 hours a day, seven days a week, to provide you with peace of mind in your home and plumbing. If you require plumbing services, reach out to a Broward Plumbing technician at 954-516-7777 or contact us online today.