What Happens When Pipe Repair is Delayed
Posted in Pipe Repair, on September 29, 2023
---
Sun-soaked South Florida's sandy beaches and balmy weather have a unique, quaint charm. However, the frequent storms and hard water with resulting pipe damage can be a struggle. Delaying that crucial call to an experienced plumber in Fort Lauderdale can have devastating and costly consequences. Here's why the experts at Broward Plumbing recommend proactive plumbing inspections and timely polybutylene pipe repair.
Water Damage & Mold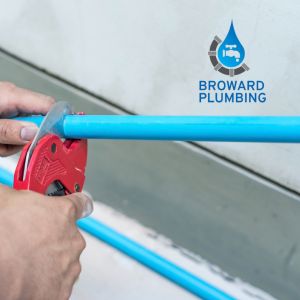 Water damage and mold are some of the most immediate and severe consequences of delaying pipe repair. Leaky or damaged pipes can release water into your home, causing damage to walls, ceilings, and floors. Hidden leaks can cause untold structural damage and ruin your home's aesthetics. Unfortunately, South Florida's humid climate is the perfect mold and mildew breeding ground. Apart from damaging your property, the stench and mold spore pose a potent health risk to you and your family. The longer you put off professional repairs by plumbers in Fort Lauderdale, the more extensive the water damage and mold growth. This can make the eventual restoration more complicated and costly.
Burst Pipes & Flooding
Ignoring plumbing issues comes with the risk of a minor leak escalating into a burst pipeline and flooding. The aging infrastructure and old polybutylene pipes(poly-b) in the older South Florida homes only add to the plumbing woes. Stormwater can put excess pressure on the sewer pipes, which can cause a pipe burst and worse–flooding. This sudden and extensive water damage can destroy your floors and furniture, requiring comprehensive cleanup and expensive restoration work. If your Fort Lauderdale home has old poly-b pipes, it's prudent to have experts from Broward Plumbing inspect your plumbing and conduct necessary polybutylene pipe repair or replacement. Delay and procrastination will only burn a larger hole in your pocket!
Sewage Backups & Odors
Sewage backups and foul odors are another unpleasant consequence of delaying pipe repair. Stagnant water due to clogged drains can trigger backups that can invade your home. These sewage backups can cause an unsanitary, damaging mess with potential health hazards.
This also produces musty and unpleasant smells that permeate your living space. The organic debris and damp environment also breed mold that gives off a peculiar odor and requires immediate attention. Vigilant plumbing maintenance and timely intervention are crucial to prevent these unpleasant surprises and safeguard your home from the costly aftermath of a sewage disaster.
Plumbing Damage
Over time, neglected plumbing problems can result in cracked and broken pipes. Apart from disrupting water flow, it can lead to more frequent and severe leaks. Repairing or replacing these damaged pipes becomes more complicated and costly as the damage progresses. Prevent this domino effect of damage by promptly addressing your home's polybutylene pipe repair issues.
Cost Savings
Swift action for plumbing pipe problems can save you big dollars in the long run. Leaving seemingly minor piping problems unaddressed can result in costly, full-blown pipe replacements and complex repairs. Timely action to prevent further pipe deterioration can save you plumbing stress and expensive restoration in the future.
Your Trusted Plumber in Fort Lauderdale for Expert Pipe Repair
Don't worsen plumbing pipe problems–Delaying polybutylene pipe repair can have long-term financial consequences and disrupt your everyday schedule. Contact Broward Plumbing for experienced plumbers in Fort Lauderdale when you notice any plumbing issues. Our plumbing company is powered by certified technicians are specifically trained and experienced to handle.