Why Inspect Plumbing Before Buying an Older Home?
Posted in General Plumbing Services, on April 17, 2023
---
If you are considering buying an older property in Fort Lauderdale, there are many things you need to factor into your decision making process. One of the most critical aspects to consider before closing the deal is getting a plumbing inspection from a reliable plumber near Fort Lauderdale. Older properties tend to have hidden plumbing issues like pending hot water heater repair or water leaks that could end up as a costly bargain. Broward Plumbing experts detail why a plumbing inspection is essential and what to look for.
Plumbing Leaks & Water Damage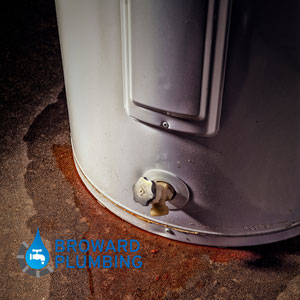 One of the most common problems in older properties in Fort Lauderdale is water damage caused by leaks. These pesky hidden leaks are hard to detect and can cost a pretty penny in damage repairs if undetected. A plumbing inspection by a reputable plumber near Fort Lauderdale can help identify existing leaks or other potential plumbing issues. A professional plumber knows signs like mold, crumbing paint, dark spots, etc., indicating water damage or leaks in the plumbing system. This way, you can fix the problem in time and negotiate a better price by factoring in the cost of such repairs.
Old & Damage Pipe Repairs
Outdated piping systems with cast iron or polybutylene pipes can be a significant issue plaguing older properties in Fort Lauderdale. Cast iron pipes are prone to corrosion and rusting that causes unwanted leaks and clogs. Polybutylene pipes were once popular in the 1980s but are notorious for ruptures and leaks. Updating old plumbing is expensive and time-taking, so most older homes in Florida still have old cast iron or polybutylene pipelines. A thorough plumbing system inspection from Broward Plumbing can identify outdated piping systems, and we can recommend repairs or replacements to avoid significant issues down the line.
Faulty Water Heater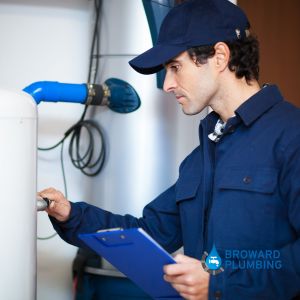 Malfunctioning or outdated water heating systems in older properties can cause problems like low water pressure or inconsistent water temperatures. Get a plumbing inspection to rule out the need for hot water heater repair in Fort Lauderdale before finalizing the sale terms. A professional plumber can inspect the water heater to check for corrosion, leaks, energy consumption, and age to recommend repairs or replacements. They can also check that the heater size is adequate for your family and that the wiring complies with local codes & standards.
Sewers & Brewing Clogs
Accumulated debris and minerals in older pipes can cause nasty clogs. These obstructions can result in frustratingly slow drains and inconvenient sewer backups. A proper plumbing inspection can identify brewing clogs in the system and recommend appropriate solutions. Sewage problems are the last things you want when buying an older home! Plumbers near Fort Lauderdale can inspect the main sewer and conduct a drain camera survey to check for clogs or pipe deterioration. They can also check all home toilet and sink fixtures for optimal functioning with zero clogging issues.
Choose the Leading Plumbers in Fort Lauderdale
Getting a trusted plumbing professional to inspect your future home can give you much-needed peace of mind and prevent future damage to your home & wallet! At Broward Plumbing, we pride ourselves on our commitment to serving Broward County with professional expertise, state-of-the-art equipment, and years of experience. Our team of licensed plumbers near Fort Lauderdale can identify all plumbing issues & recommend the most effective solutions. So don't forget a professional plumbing inspection before you buy an older property!
Contact us for a comprehensive Broward Plumbing home inspection today!