Why Is My Water Heater Leaking?
Posted in Hot Water Heater Repairs , on September 23, 2022
---
Water heaters often experience wear and tear as it's used every day in a typical household. From running the sink to having a warm shower, your water heater provides you with warm or hot water that you rely on. Though it's not a necessity, many people enjoy the perks of a water heater, and when leaks occur, they're stuck with ice-cold showers and water damage. Water heater leaks can happen for a number of reasons and it's crucial to act fast by contacting professional plumbers in Boca Raton. By getting water leak detection done by expert plumbers, your leak can be diagnosed and repaired in no time.
Continue reading to learn the common reasons for water heater leaks.
What Causes Water Heater Leaks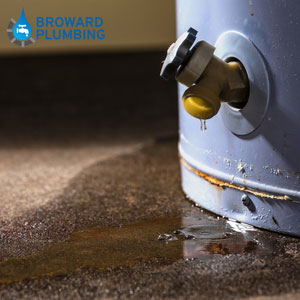 Water heater leaks can occur for various reasons. Leaks from your water heater can quickly wreak havoc on your home, causing damage to your walls, flooring, furniture, and the property's structural integrity. Not to mention, if your home has water damage, it causes mold, mildew, and rotting. By getting water leak detection by the professionals at Broward Plumbing, you can ensure your home is free from destruction with emergency plumbing services.
Wear & Tear
Water heaters are commonly used by homeowners, so it's no surprise that some heaters experience extreme wear and tear after years of use. If your water heater is about 15 years or older, it's common for leaks to occur as the unit ages and parts wear out. In addition, the water doesn't keep its warmth like newer units. Leaks lead to corrosion, which allows water to exit through crevices and cracks. When your water heater has years of wear and tear, it's best to find an experienced plumbing company to replace and install a new water heater.
Drain Valve
The drain valve is commonly used to empty and clean the water heater tank. However, this part loosens over time and can lead to water leaking through. Leaks from the base of the valve indicate the component isn't watertight, meaning a new drain valve is needed. Contact a group of qualified plumbers in Boca Raton for an effective drain valve repair or replacement.
Water Pressure
Another reason your water heater may be leaking is from pressure in the tank. Intense pressure occurs in heaters when steam from the hot water fills the tank's space. Since the steam has no place to escape, the pressure can become too powerful, permitting the water to leak through cracks in the heater. When you experience leaks, it's vital to assess the situation as soon as possible to avoid water damage. Contact the experts at Broward Plumbing for quick and reliable water leak detection and water heater services today.
Contact Professional Plumbers in Boca Raton
At Broward Plumbing, our certified technicians have years of experience detecting and diagnosing water heater leaks. To steer clear of any structural damage, it's essential to contact certified emergency plumbers in Boca Raton the second you notice a leak in your home.
If you're unsure why your water heater is leaking, contact the technicians at Broward Plumbing for an effective diagnosis and water leak detection.
We'll get to you quickly for reliable same-day emergency plumbing services!