Why is Your Water Heater Leaking
Posted in Hot Water Heater Repairs , on February 27, 2023
---
Water heater leaks can be a safety hazard and reduce the efficiency of your plumbing system. Undetected heater leaks can cause extensive water damage to your home and property. If you're facing water heater problems or unexpected leaks, engage a reliable plumber in Fort Lauderdale for effective water heater repair. At Broward Plumbing, we understand that a functioning water heater is critical. That's why our professional water heater repair specialists are always on call to stop leaks and restore your unit to peak efficiency.
Here's a quick guide to the common causes of water heater leaks.
Warning Signs of Water Heater Leaks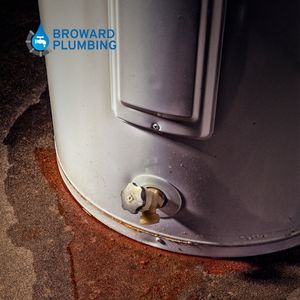 Leaks from your water heater can be frustrating, but often go unnoticed until the issue becomes severe. By spotting signs of leaks, you can contact a plumber near you for water heater repair faster, restoring functionality to your home plumbing system sooner.
Puddles around or under the water heater.
Rust or corrosion on or inside the water heater tank.
Dampness/mold growth on nearby walls or floors.
Unusual noises coming from the water heater.
Decreased hot water supply.
Keeping an eye on signs of a leaking water heater can help prevent further damage and costly repairs. When you notice any of these signs, contact a competent plumber in Fort Lauderdale immediately to prevent further damage.
Why's Your Water Heater Leaking?
Look below to learn the common reasons behind a leaky water heater.
Corrosion: Water heater tank corrosion can cause cracks and water leaks. A sacrificial anode rod inside your water heater delays corrosion. However, the rod depletes over time, leaving the corrosive substances to play havoc with the water tank. Luckily, simply replacing the anode rod can fix the problem.
Loose Fittings: Loose inlet & outlet connections or drain valves can cause water to leak from the water heater. Continuous use over the years can cause these fittings to become loose and lead to drips from the small openings. Sometimes, you can address the issue by tightening the connections yourself. However, a loose drain valve at the base needs to be replaced by a knowledgeable plumber in Fort Lauderdale.
High Water Pressure: A heater unit will create pressure as it heats the water. If excess pressure can't be released properly, it can force out water and steam through weak points or cracks in the tank.
Old Heating Unit: Old water heaters are at risk of cracks and leaks due to wear and corrosion. The average working efficiency of a water heater is around 8-10 years. If you have an older unit leaking, buy a new energy-efficient appliance.
Faulty Temperature & Pressure Relief Valve (T&P Valve): Leaks can also be due to a malfunctioning T&P valve. Try tightening the valve if it is loose, or get a new one.
Sediment Buildup: Neglecting regular tank cleaning can cause sediment buildup that can cause leaks. Sediment accumulation can cause cracks that drip or even run a stream of water from the hot water tank! Any leaky water tanks should be replaced for safe and efficient working.
Preventing Water Heater Leaks with Plumbing Services
While some water heater leaks are inevitable, there are certain precautions you can take:
Regular maintenance, including water tank flushing & checking the pressure relief valve.
Install a water softener for hard water.
Have a plumbing specialist inspect the unit annually to catch potential issues.
Broward Plumbing: Your Trusted Plumber in Fort Lauderdale
Water heater emergency? Contact Broward Plumbing for dedicated 24-hour emergency plumbing service and reliable plumbers in Fort Lauderdale. Our skilled plumbers near Fort Lauderdale, Broward County, and nearby areas for years! So don't wait–call us for water heater repair or free phone consultation right now!