Why Unclog Drains with the Help of a Professional Plumber
Posted in Drain Cleaning , on April 20, 2023
---
Plumbing issues like clogged drains can be an incredibly frustrating and unfortunate reality for many homeowners. While it may be tempting to try fixing the problem yourself, hiring a professional plumber near Boca Raton is more sensible. They can save you time, energy, and the trouble of water damage, ensuring the drain is unclogged without unnecessary trial and error. Here's why you should leave your drain clogs to professional plumbers near Fort Lauderdale and elsewhere in Broward County.
What Causes Drain Clogs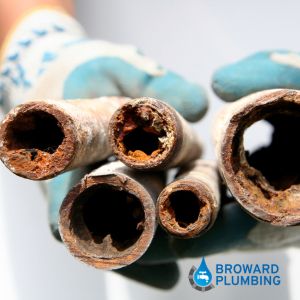 There are several common reasons behind drain clogs. Hair strands, food particles, soap scum, and other debris can accumulate in your drains over time to cause a blockage. Tree root infestation, aging pipes, and other factors can also lead to obstructions. It's critical to determine what is causing the clog so that a reliable plumber near Boca Raton can effectively address the problem.
The Dangers of Ignoring a Clogged Drain
Unfortunately, ignoring a drain clog can wreak havoc on your sewage and plumbing system. Slow-draining water and unpleasant odors are a nuisance associated with clogged drains. However, backed-up drains and flooding are the most damaging aspect of a blocked pipe. The standing water is a breeding den for bacteria and mold––a health hazard you can certainly do without! Drain clogs can also cause sudden pipe bursts, leading to expensive repairs and significant water damage. Timely intervention by an experienced plumber near Fort Lauderdale can help avoid pipe bursts and flooding.
Benefits of Professional Plumbing Services
Home Remedies & DIY Mistakes: The average homeowner uses bathroom plungers, home remedies like baking soda and vinegar, or corrosive chemicals to dissolve the clog. However, these may not work and can even worsen the problem.
Expertise and Equipment: Professional plumbers can access advanced plumbing technology and tools to diagnose and address the problem correctly. Plumbing professionals can use a variety of tools like drain snakes, sink augers, and hydro jets to ensure the clog is eradicated and your pipes are thoroughly cleaned. They also have the expertise and go that extra mile to end recurrent clogs.
Identify Underlying Structural Issues: A competent professional plumber can identify underlying structural issues behind recurrent drain clogs like pipe damage and corrosion. They also undertake measures to prevent the formation of future clogs.
Hydro Jetting Vs. Snaking
Professional plumbers use two main methods to unclog drains––hydro jetting and snaking. Hydro jetting involves using a high-pressure water stream to blast away the obstructing debris and calcium buildup. Plumbers near Boca Raton can also use a drain snake, a long, flexible cable with a rotating blade to cut through stubborn clogs. While both methods are effective, plumbers often prefer hydro jetting as it is a more thorough method to remove and cleanse all debris from the pipes.
The Best Choice for Drain Cleaning Plumbing Services in Broward County
When it comes to unclogging drains and expert plumbers near Fort Lauderdale and Boca Raton, Broward Plumbing is your ideal choice. We have years of plumbing expertise, and our crew has successfully unclogged countless drains across Broward County. We also offer leak detection, repiping, trenchless pipe and water heater repair & installation, water damage restoration services, and more. With our customer satisfaction guarantee and 24/7 emergency plumbing services, you can trust Broward Plumbing to do the job right. Call us now to schedule your drain cleaning service and experience the Broward Plumbing difference.