Why You Should not DIY Water Heater Installation
Posted in Hot Water Heater Repairs , on August 25, 2023
---
While a cost-saving DIY water heater installation may appear tempting, the potential pitfalls might make you rethink. The risk of costly blunders far outweighs the potential cost savings of a DIY attempt. Installation and water heater repair in Boca Raton demands technical know-how and specialized tools, often lacking in typical DIY enthusiasts. Here are some pertinent factors why you should entrust water heater installation to Broward Plumbing's expert plumbers in Boca Raton.
Safety First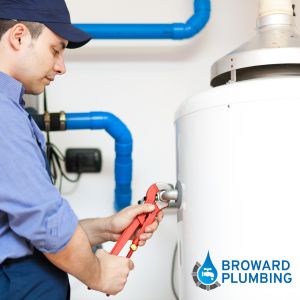 The safety risks associated with DIY water heater installation should not be taken lightly. A water heater is a complex appliance requiring specialized knowledge and skill for installation and operation. As tempting as it may be to save a few dollars by attempting a DIY installation, there's a grave potential for hazardous electrical mishaps, gas leaks, and water damage. Improper installation or a malfunctioning temperature & pressure relief (TPR) valve can even trigger an explosion! Professional plumbers in Boca Raton possess the expertise to navigate these risks and adhere to strict safety protocols to ensure your home remains a secure haven.
Code & Regulation Compliance
Plumbing work is governed by stringent codes and regulations that ensure the safety and well-being of occupants and workers. DIY water heater installers often overlook or miss these essential guidelines, which can lead to legal complications or insurance issues down the line. Certified plumbing technicians are conversant with local plumbing codes for installation and water heater repair in Boca Raton and adhere to them diligently. This ensures that your heater installation is functional and compliant.
Technical Expertise Matters
Water heater installation entails technical intricacies that require flawless execution. Correct venting and precise electrical connections are essential for long-term efficiency and longevity. Reputable plumbers in Boca Raton, like those at Broward Plumbing, are well-versed in these complexities, guaranteeing that your water heater is installed correctly for peak performance. Professional plumbers in Boca Raton have a reservoir of experience for a seamless installation with minimal chances of future malfunctions or costly repairs.
Insurance & Warranty
DIY installation can void appliance insurance and warranties. While you might assume your homeowner's insurance has you covered, there's a catch. Though most policies address issues like flooding and pipe breakage, coverage only applies to repair or installation by a licensed plumber. Water heater warranties by most companies stand only if a professional plumber oversees the installation process. Activating the water heater warranty usually mandates sharing the plumber's license number.
Long-Term Savings
The long-term savings achieved by a professionally installed water heater far outweigh the short-term DIY cost-cutting measures. While you may save some dollars with a DIY water heater installation, the potential pitfalls carry substantial long-term costs. Improper installation can cause energy inefficiencies, premature wear and tear, and voided warranties. Add water damage costs and structural repairs, and the initial savings on DIY installation look like a foolish mistake.
Safeguard Your Home with Broward Plumbing
Entrust water heater installation to Broward Plumbing's experienced plumbers in Boca Raton. Our plumbing technicians bring professional expertise, safety protocols, and technical finesse to ensure flawless water heater operation. Hiring professionals from Broward Plumbing is an investment in peace of mind & security that will pay rich dividends! Your Boca Raton home deserves the best–including a professionally installed water heater from Broward Plumbing.