Commercial & Residential Plumbing Services For All Your Needs
When you're in need of a plumber in Boca Raton, trust the professionals at Broward Plumbing.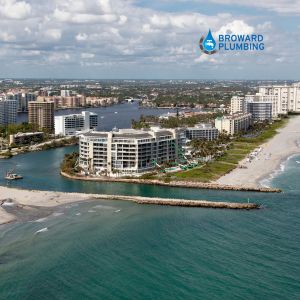 Located in the heart of Boca Raton, our team of skilled and certified plumberss near you will arrive on-site in 45 minutes or less to serve you. Situated right on the water, the tropical temperatures and oceanside setting make properties in the area susceptible to plumbing issues related to saltwater intrusion and intense weather conditions. Broward Plumbing is a locally-owned and operated plumbing company equipped with experienced plumbers in Boca Raton who can effectively manage, repair, and restore plumbing infrastructure issues and emergency situations unique to the region.
At Broward Plumbing, we provide a full range of plumbing services for all your commercial or residential needs. From general plumbing repairs to complex installations and pipe replacements, our Boca Raton plumbers will find the best solution for you.
When you need a plumber, Broward Plumbing is the company to call. With decades of experience providing high-level plumbing services to businesses and homeowners throughout the region, our team has quickly become one of the most trusted plumbing services near Boca Raton and Broward County.
Our Leading Plumbing Services in Boca Raton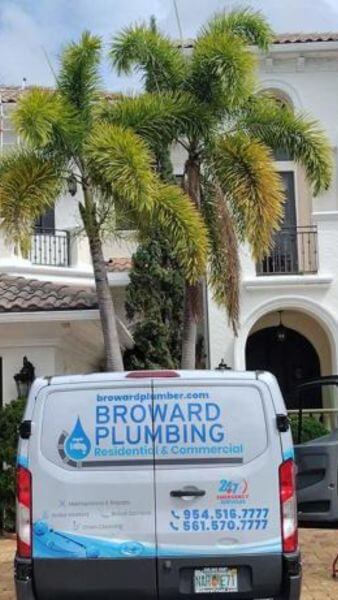 Broward Plumbing is your go-to plumbing company when searching for a reliable plumber in Boca Raton or elsewhere in South Florida. We help you solve your plumbing problems and avoid future breakdowns.
Emergency plumbing repairs: when plumbing emergencies, clogs, backups, leaks, and other plumbing emergencies happen, our team offers 24-hour emergency plumbing services through Boca Raton.
Water Heater Installation & Repair: Our technicians help commercial and residential property owners address water heater errors, repairs, and replacements so you don't have to go without hot water for long.
Plumbing Leak Detection: Find the source of leaks and repair them fast with non-invasive plumbing leak detection using advanced tools and expert repair techniques.
Pipe Repair and Replacement: We offer skilled cast iron pipe repair and polybutylene pipe replacement so you can ensure your property is equipped with healthy plumbing infrastructure.
Trenchless Sewer Line Repairs: A less invasive approach to sewer line repair, trenchless pipe repairs allow our plumbers to solve many sewer problems without digging up the entire lawn or landscaping.
General Plumbing Repairs: When essential plumbing systems break down or stop functioning as they're supposed to, we'll help you get it back in order with high-quality materials and skilled services, including toilet installation, declogging, and more.
If you are looking for a certified plumber near Boca Raton with excellent service, cost-effective pricing, and quality work, contact Broward Plumbing. Whether your plumbing repair is a simple inconvenience or a significant emergency, our plumbing company in Boca Raton can respond quickly and always do our best to offer reasonable and cost-effective solutions. All of our Boca Raton plumbers have the ability, knowledge, and most current tools and equipment to do the job right, the first time!
If you need a plumber near Boca Raton, call Broward Plumbing.
---
Inspect Your Plumbing with Advanced Camera Inspections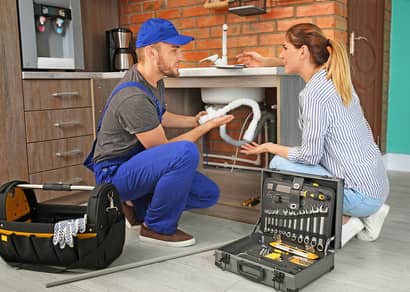 To facilitate assessments, accelerate progress on your plumbing work, and ensure effective, long-lasting results, Broward Plumbing uses innovative technology. Robotic camera inspections provide our expert plumbers in Boca Raton with a 360º view of your pipes, allowing our teams to confidently and carefully identify cracks, build-ups, and backups. With accurate diagnosis, we can ensure you're getting the best plumbing repairs possible.
Residential and Commercial Plumbers Boca Raton
Tropical Weather & Your Plumbing: Southern Florida is prone to heavy rainfall, highwinds, and hurricanes which can overwhelm or damage plumbing systems. When pipes get damaged or backed up, our plumbing experts arrive on-site within an hour to reverse the damage and get your property back to normal functioning.
Saltwater Intrusion: For properties throughout the Boca Raton area and near Broward County, saltwater in the air can corrode metals and other important metals used in the plumbing infrastructure. Our plumbers can quickly recognize the signs of saltwater damage or intrusion in Boca Raton, and can help prevent future trouble.
Water Hardness: The water in South Florida tends to have more natural minerals than other regions. The minerals cause clogs and backups that damage and burst pipes and sewage systems. With Boca Raton's leading plumbers in Broward County you can preserve your pipes.
Building Codes and Regulations: Boca Raton, like any other municipality, has its own building codes and regulations related to plumbing. Our certified plumbers understands the importance of compliance for new construction, renovations, and plumbing repairs.
Why Choose Our Plumbing Services?
Licensed & Certified: Our plumbing experts are licensed, insured, and certified plumbers in Boca Raton and Broward County, providing high-quality and reliable services you can count on.
Local Plumbing Company: We are a family-owned service provider in South Florida with comprehensive knowledge and experience with local plumbing infrastructure.
Fast Response Times: Broward Plumbing provides 24/7 emergency plumbing services in Boca Raton and Broward County, arriving on-site within 45 minutes of your call.
Commercial & Residential Services: We have the team, equipment, and know-how to service homes, offices, and facilities of all sizes efficiently and effectively.
High-Quality Services: At Broward County, you can count on high-level customer service and workmanship. We pride ourselves on delivering the best solutions possible and the best materials.
Broward Plumbing Inc. - Plumbing Company Boca Raton, Florida
621 Northwest 53rd St, Suite 125, Boca Raton, FL 33487, United States