4 Reasons You Need To Schedule Sewer Drain Cleaning
Posted in Sewer Line Repair, on September 09, 2021
---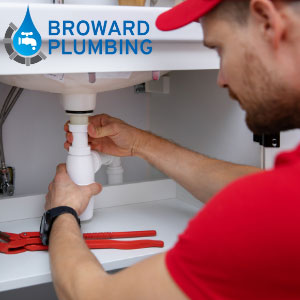 As a homeowner, you are sure to have come across a clogged drain at one point or another. Though a single drain clog seems like a manageable plumbing issue, it can quickly escalate into a major ordeal if there is a sewage backup. Scheduling regular sewer drain cleaning can significantly minimize the possibility and frequency of nasty sewage backups. Read on to know about the benefits of regular sewer drain cleaning from leading plumbers in Boca Raton can ensure the peak performance of your sewage system!
1. Reduce Blockages & Leaks
Most of us reach out for drain cleaning services when we encounter a clogged drain or sewage backup. However, investing in preventive sweater drain cleaning and maintenance can help reduce blockages and leaks. Our pipes dispose of vast amounts of grime and waste every day. This cocktail of grease, dirt, food waste, and other debris can cause buildup and blockages. Chemical deposits on the pipe interior can also cause corrosion and subsequent leaks. Regular cleaning of the drainage system keeps the pipe interiors clean and free of debris. This allows the waste to flow out easily, thus preventing leaks and extending the life of your plumbing system.
2. Minimize Odors
Unpleasant odors from your drains are a result of an accumulation of waste within the pipes. Organic waste and debris can get stuck inside your pipes and cause these foul smells to permeate throughout your house. Sometimes, such odors can persist even when the drainage system is working correctly. Scheduling preventive drain cleaning can help avoid waste buildup and nasty odors.
3. Cleaner Homes
Regular drain cleaning ensures clean, functional drains with minimal blockages. This prevents awful sewage backups and eliminates the risk of dirty sewage water from entering your home. Sewer waste contains harmful contaminants that can be hazardous for health. Preventive drain cleaning is a neat way to avoid putting the health of your family and home at risk. Say hello to a cleaner and fresher home with professional drain cleaning services from Broward Plumbing!
4. Limit Expenses By Preventing Expensive Repairs
Recurring clogs can cause leaks, pipe bursts, and more. Keeping the sewage system clean with maintenance cleaning can help avert the risk of clogging and sewer backup. Plumbing professionals can not only clean the pipes but also spot potential issues with your drainage system. This ensures that any signs of aging, corrosion, or pipe damage can be identified early, and preventive action can be taken before any significant damage. Investing in plumbing maintenance can you save dollars and headaches. Complete pipe replacement can be an expensive project—save yourself the trouble and expenses by scheduling regular pipe cleaning services.
Leading Plumbers in Boca Raton from Broward Plumbing
Regular cleaning is vital for maintaining durable and clean drains. This will not only extend the lifespan of your pipes but will also give you lesser trouble. Take advantage of top-rated professional drain cleaning services in your area with Broward Plumbing. We are licensed, insured, and experienced in handling sewer clogs, sewage backups, or drain cleaning. With state-of-the-art technology like drain cameras and hydro-jetting, you can breathe easily and enjoy a clean, safe home and plumbing system. We also undertake sewer-main repairs and any other plumbing issues that you may have. Clogged drains can be a pain!
Contact us to schedule
a preventive sewer drain cleaning service today!
Learn More About Our Sewage Drain Cleaning