FAQ on 24 Hour Emergency Plumbing Problems
Posted in Emergency Plumbing Services, on May 16, 2022
---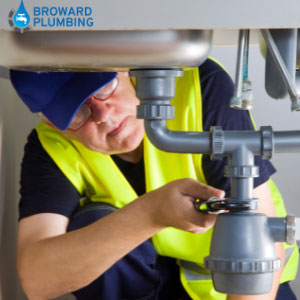 Have you ever wondered about 24-hour emergency plumbing issues? You will be surprised to know that not every plumber near you in Boca Raton can handle emergency plumbing issues. This means that when you have a plumbing emergency, you will need a plumbing company that you can rely on without worrying about the quality of work offered.
If you are searching for the best 'plumbing company near me' online, then Broward Plumbing is here to help. We are one of the most reliable plumbing companies in Broward County and Southern Florida, with teams of highly qualified & experienced plumbers that utilize advanced technology.
Broward Plumbing would like to address some of the most common questions that we get about 24-hour emergency plumbing issues, so our customers can feel more confident in knowing that they are choosing the right emergency plumber in Boca Raton and Broward County for the job:
How Long Will It Take For A Plumbing Service To Be At My Home Or Business?
When you need a plumber in Broward County, the time is now. Contacting a plumbing service in Broward County is easy. You can contact us by calling 954-516-7777, and one of our plumbers nearby will be at your home or business within 30 minutes.
What Is Considered An Emergency Plumbing Issue?
There is no definitive answer to this question since it can vary depending on the individual situation. However, generally speaking, an emergency plumbing issue is any problem that poses a threat to your health or safety or that of your property. This could include a burst pipe, a blocked sewer line, or a defective gas line. Basically, anything that has the potential to cause severe damage or harm should be considered an emergency.
How Can I Tell If I Have An Emergency Plumbing Issue?
If you are unsure whether or not you have an emergency plumbing issue, it is always best to err on the side of caution and contact a plumber in Boca Raton or the surrounding area. Plumbing issues can often be complicated and challenging to assess, so it is best to leave them to experts. That being said, there are some signs that you may have an emergency situation on your hands, such as:
Water leaking from pipes or fixtures
Strange noises coming from your plumbing
Foul odors in your home or business
Excessive water bills with no explanation
If you notice any of these things, it is important to act quickly and reach out to a qualified plumber in Fort Lauderdale or the surrounding area who can help you assess the situation and make repairs as necessary. Waiting too long to address a potential emergency could result in major damages that could be both costly and dangerous.
What to Do When You Need a Plumber in an Emergency?
If you find yourself in the middle of a plumbing emergency, it is important to stay calm and act quickly. The first step is to shut off the water supply to your home or business. This will help prevent further damage from occurring. Once the water is turned off, you can then assess the situation and determine what repairs need to be made. If the problem is extensive or complex, it is always best to contact a professional plumber in Broward County who can handle the repairs for you. Trying to fix an emergency plumbing issue on your own can often make things worse, so it is best to leave it to the experts.
Broward Plumbing is a full-service plumbing company, which means we can help you with anything from clogged drains to sewer line replacement and trenchless pipe repair. Contact the trusted plumbers in Broward County who know their way around residential and commercial plumbing for all your plumbing needs.