Why Is My Hot Water Not Working?
Posted in General Plumbing Services, on November 11, 2020
---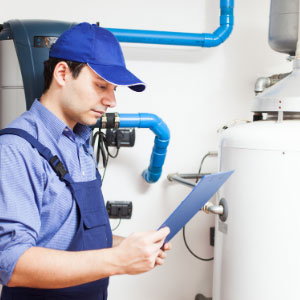 Did your dream of a heavenly hot water bath get a rude awakening with you suddenly running out of hot water? Is your water heater taking too long to heat the water? Nothing can be more frustrating than your hot water unit conking off in the middle of winter. The ideal fix is to call a reliable hot water heater repair expert from trustworthy plumbing companies. So the next time you need a hot water heater repair you can skip searching for a 'plumber near me' and you can contact one of Broward Plumbings' professional plumbers in Boca Raton and plumbers in Fort Lauderdale.
In this blog, we will review some common reasons your hot water heater is not working, when a hot water heater repair by a plumber is needed, or better still, fix it yourself!
Excessive Usage
A tankless water heater can sometimes run out of water temporarily due to excessive usage. Try letting it sit for a few hours to reheat; if it still doesn't work, then there may be some other issue.
No Pilot Light
Most older heaters have a pilot light. If you cannot see a flame, it means that the pilot light is off. Just follow the manufacturer's instructions to re-light the flame. However, the newer heaters have a glow-plug or spark ignition. You might need to call a hot water heater repair technician to fix it or try re-lighting it by reading the owner's manual.
Water leakage
The lack of hot water could be due to a leak in the connecting pipes or the hot water tank. This calls for a qualified plumber from one of the reputable plumbing companies in Broward to diagnose the problem.
Gas Leakage
Sometimes the water may not heat due to gas leakage. If you notice the smell of gas(or rotten eggs!) around your gas heater, immediately turn off the gas valve. Next, speed dial your gas company or a hot water heater repair technician!
Sediment Build-up
Heated water leads to limescale formation which settles at the bottom of the water heater. This can impact the heater's energy efficiency, heating capacity, and also clog the drain valve. Get an experienced plumber from a trustworthy plumbing company to remove the limescale periodically.
Tripped Circuit Breaker
Your heater may not be working due to a tripped breaker. Check the circuit box to see whether the breaker has tripped. In case it has, you simply need to turn it off, and then put it back on to reset it. If the breaker trips again, you need to call an electrician to fix the problem.
Defective Thermostat/Heating Elements
Try adjusting the temperature level on your water heater thermostat to solve the problem. If that doesn't work, maybe the thermostat or the heating elements are defective. Have a hot water heater repair technician check for a spoilt thermostat or heating elements.
Lack of running hot water during winter can bring your household to a grinding halt. Ensure hot-water happiness with regular maintenance and repair from a reputed plumbing company.
Plumbing Services You Can Turst at Broward County
Say goodbye to all your hot water troubles and other plumbing issues with Broward! Our certified plumbers have the experience, expertise, and training to take care of all plumbing your emergencies. Whether it's a leaking pipe, sediment build-up, or a more complex plumbing issue, our plumbing professionals are available 24 hrs a day, 7 days a week!
Dial 954.516.7777 or 561.570.7777 to schedule an appointment or contact us online.