How Does Sediment Buildup Affect Your Plumbing
Posted in Pipe Repair, on June 21, 2022
---
Did you know that water quality affects how effectively your plumbing and appliances work? Our expert plumbers near Fort Lauderdale understand that hard water and sediment buildup is a nuisance to many house owners and results in high energy costs and damage to your water tank. Your water heater repair in Fort Lauderdale may need repairing due to issues from sediment buildup, which is common among many living in the city. Fortunately, Broward Plumbing is trained and certified in hot water heater repair and installation.
Read on to learn more about spotting the signs and effects of hard water and sediment buildup in your home.
Signs and Effects of Hard Water & Sediment Buildup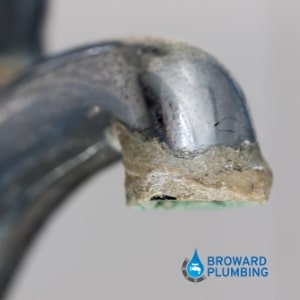 Plumbers in Fort Lauderdale say it's more common than not to experience problems with your water tank. One of the main reasons that sediment buildup occurs is due to hard water, which is rich in minerals like calcium and magnesium. Emergency plumbers near you can help.
Low Water Pressure: Your water should have efficient water pressure that is soft to the skin yet effective. If you are experiencing low water pressure, it may indicate that you have sediment buildup.
Strange Noises: Sizzling or hissing sounds happen when water is boiling to steam underneath heating elements in your home. If you hear a popping noise, it means the water is trapped under lime deposits.
Cleaning is Difficult: Having a hard time cleaning surfaces with yellow or brown stains indicates that your hard water has caused you to have a sediment buildup, leaving behind lime scales. The minerals in hard water make it extremely difficult to remove.
Permanent Damage to Glass Shower Doors: In some instances, mineral deposits can cause a chemical change that permanently damages the material of your shower doors. If you notice white, cloudy residue that never seems to come off, the stains may be permanent because of the chemicals etching to the glass.
Damage to Plumbing Fixtures: Since chemicals can eat through the coating of plumbing fixtures, causing discolouration and mineral buildup beyond restoration. You may see mineral buildup on surfaces such as drains, faucets, or shower heads. The deposits of minerals can damage the rubber washers that seal the appliances, creating leaks that cause way more damage. If you notice blue or green stains around your plumbing fixtures, your water could be slightly acidic, leading to eroding bass or copper pipes.
Damage to appliances: Appliances such as your coffee maker, washing machine, ice maker or dishwasher can develop limescale buildup, making them unusable and leading to water leaks.
If you are experiencing any of these signs, you may need to call a professional for a water heater repair. Broward Plumbing offers quick, efficient, affordable, and trustworthy water heater repair in Fort Lauderdale.
Leading Plumbers Near Broward County in & Fort Lauderdale
Broward Plumbing is your leading South Florida plumbing company serving Fort Lauderdale, Boca Raton, Tamarac, Plantation, and elsewhere near Broward County. We only employ certified and trained professionals and have years of experience and expertise in the plumbing industry and provide the best service possible.
Contact Broward Plumbing if you are experiencing any of these signs.