Increase Your Property Value With These Plumbing Upgrades
Posted in General Plumbing Services, on December 09, 2022
---
An efficient plumbing system in your home is more than just a convenience. Repairing pipes and other lingering plumbing problems around your home can significantly add to the value of your property. Many homeowners engage professional plumbing companies in Fort Lauderdale to enhance the resale value of their homes with plumbing upgrades. The experts at Broward Plumbing explain how you can improve your property value with plumbing improvements and fixing issues like water heater repair in Fort Lauderdale.
Switch to Modern PVC Pipes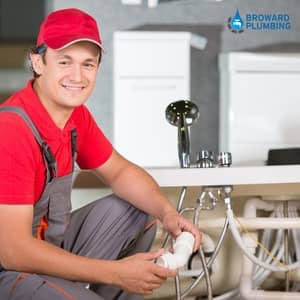 Your piping system is probably made of cast iron, lead, or clay if you have an older home. Unfortunately, these materials are outdated, inefficient, and prone to corrosion. Switching to modern PVC or PEX pipes will prevent corrosion and leakage and improve water quality. These materials are non-corrosive & non-toxic, and they last for decades! Hiring a trusted plumbing company in Fort Lauderdale for a PVC pipe upgrade will also put potential buyers at ease about possible plumbing problems in the future.
Water Heater Upgrade
A water heater is essential for the normal functioning of your home. From washing dishes and doing laundry to bathing—everything requires a free flow of hot piped water. An efficient and well-functioning water heater adds significant value to your property. Get the necessary water heater repair in Fort Lauderdale before you put your house on the market. Better yet, upgrade to a modern tankless beauty or new efficient water heater. Tankless water heaters ensure instant hot water and are considerably energy-efficient.
New Toilet Installation
Dull and drab bathrooms showing signs of aging should be replaced. If your toilet has the following issues, it needs to be replaced:
Leakage around the base
Inconsistent flushing
Makes weird noises
Frequent running water mishaps
And if your old toilet is running well, upgrading to an eco-efficient & modern unit will save money and enhance property value.
Install a Garbage Disposal
The garbage disposal may be missing from your priority list of home improvements. Still, it can make a significant difference if you plan to sell your home. Installing a decent size garbage disposal unit into an otherwise underrated kitchen can uplift its functionality and put potential homebuyers at ease.
Update Your Fixtures
Old bathroom and kitchen fixtures will eventually require repairs. It is more economical to replace them before they cause water damage and other such problems. If you're considering selling your property, new fixtures and faucets can transform the aesthetics of your old kitchen or bathroom. Rusty taps and outdated shower stalls can put off buyers. Elegant and functional fixtures will add value and won't cost a fortune—speed-dial plumbing companies in Fort Lauderdale right away!
Increase Your Property Worth with Our Plumbers Near You
Boost the value of your property with smart plumbing upgrades from Broward Plumbing. As one of the leading plumbing companies in Fort Lauderdale, the experts at Broward Plumbing will ensure that any enhancements we undertake will actually improve your home's worth. Our trained and licensed plumbers will ensure that there aren't any costly 'errors' or 'do-overs'! We consider your budget and unique needs before suggesting plumbing enhancements. Whether you require emergency/regular plumbing services, upgrades, or water heater repair in Fort Lauderdale, Broward Plumbing is there to serve!
Speak to our friendly plumbing team for an appointment today!