What is Considered a Plumbing Emergency in Boca Raton
Posted in Emergency Plumbing Services, on July 11, 2022
---
For the most part, it's pretty apparent when you have a plumbing emergency as it's either pouring from your ceiling or up to your knees, followed by damaged furniture. Although you may have a plumbing situation that doesn't seem urgent, it will become an emergency if left untreated. The best plumbers in Boca Raton recommend checking out for any plumbing issues as they can lead to worse situations. To ensure you have an action plan for a plumbing emergency, you must have someone you can rely on in Boca Raton for plumbing services.
Read on to know when to contact a plumber for an emergency.
Flooding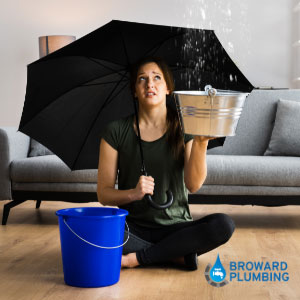 When a sudden rush of water pours from an undetected source, panic sets in, and it can be difficult to calmly assess the situation. Flooding can happen for several reasons, including a burst pipe, clogged drains, toilet repairs, and similar issues. When flooding occurs, it is important to turn off your electricity and immediately call a professional for help. Not calling a plumbing expert in Boca Raton right away will result in further water damage that can lead to issues like mold. Also, if left untreated, it has the potential to flood again. Broward Plumbing offers 24/7 emergency services in Boca Raton so that your plumbing emergencies are never left for the next day.
Burst Pipes
When suddenly your pipe bursts, it's time to call an emergency plumber as soon as possible. To ensure your home prevents further water damage, the first thing you should do before calling a plumber is turn off the water in your home via the main valve. It is common for pipes to burst and go unnoticed as the leak may be minuscule. When left unchecked, mold can quickly form inside your walls and under your floor as it is not visible without inspection. Contacting a plumber in Boca Raton is crucial as they can detect and diagnose damages and efficiently repair or replace any plumbing equipment or appliances.
Overflowing or Clogged Toilet
You go to flush the toilet, and all of a sudden, it starts to overflow. Bacteria have spread throughout your washroom, and you need a quick yet effective fix! The toilet in your home is a necessity for everyone in your home. When your bathroom happens to overflow or clog, an emergency plumber is needed. Not only is it inconvenient, but water damage from flooding can get into flooring that can ultimately be irreversible if not treated immediately. A clogged toilet can back up your drain and worsen if it is not fixed correctly. Broward Plumbing is your best choice when you need an experienced emergency plumber near you to save the day.
Why Choose Broward Plumbing's Plumbers in Boca Raton
The Broward Plumbing team are certified technicians with the best industry standards to always provide you with the best service possible. We offer many types of 24-hour emergency plumbing services such as toilet repairs, bathroom, and kitchen faucets, septic pumps, water filtration, water damage, and more.
Save our number to have us on speed dial when a plumbing emergency occurs.