What To Do When Your Pipe Bursts Near Boca Raton
Posted in Emergency Plumbing Services, on February 26, 2023
---
Whether it's a residential or commercial property, a burst pipe can quickly become your worst nightmare and halt normal functioning. When the water's gushing, you need an immediate solution! Calling an emergency plumber is the only option for quick repair and mitigating water damage. Broward Plumbing provides fast and reliable pipe repair with their team of expert plumbers near Boca Raton, Fort Lauderdale, and the surrounding areas. If a pipe has burst on your property, act fast and call Broward Plumbing.
Meanwhile, here's what you can do for an effective burst pipe response.
Spot Signs of Burst Pipes–and Hire an Emergency Plumber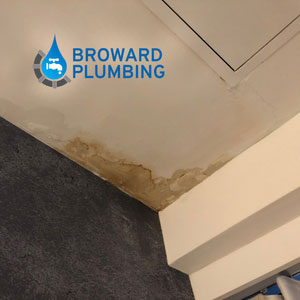 Some sure-fire signs of a pipe burst that requires a plumber near Boca Raton includes:
A sudden decrease in the water pressure
Complete water stoppage
Continuous running water with no taps on
Smelly or discolored water
Random water puddles
Sounds behind pipes and walls
Wet patches on walls, floors, or ceilings
Musty odors
Sky-rocketing water bills.
Speed dial an emergency plumber if you spot any of the above signs. A professional plumber near Boca Raton has the expertise to quickly locate the leak source and take appropriate action.
Turn Off the Water Supply
Once you determine a burst pipe, turn off the main water supply so that no new water is added to the flooding. The shut-off valve is usually near the main water meter. Also, turn off the water-based heating system or boiler until the pipe burst is rectified. If you suspect the flooded water has entered any electrical outlets, turn off the circuit break or the main power supply.
Water Leak Detection & Pipe Repair
Once the emergency plumber from Broward Plumbing arrives, they'll first locate the burst pipe. All Broward Plumbing professionals are licensed and experienced in detecting leaks & bursts using specialized equipment like drain cameras and other leak detection technology. Hiring a licensed and insured plumber near Boca Raton is critical to protect against inadvertent damage and accidents during the repair. After locating the burst pipe, the plumber will repair or replace the damaged portion. We advise homeowners not to try DIY repairs as inadequate repairs may worsen the problem and cause irreparable water damage.
Post-Repair Restoration & Cleanup
After the Broward Plumbing technician has completed the repairs, you'll need to address any water damage. Do take pictures and document damage to claim insurance before u begin the cleanup. Next, remove wet building materials like drywall, insulation, damaged wallpaper, or flooring to prevent mold infestation. Cleaning and sanitizing the affected area will prevent infections or bacterial growth. Handling sewage backup is hazardous; always contact professional water damage specialists like Broward Plumbing to tackle sewage backup cleanup.
Causes of Burst Pipes
While burst pipes are usually due to freezing temperatures, there are many other reasons for a pipe burst. In Florida, burst pipelines are often caused by corrosion, wear & tear, or high water pressure. Proactive plumbing system inspections and routine maintenance by a professional can help identify potential issues and prevent a disaster.
Contact Our Trusted Plumbers in Boca Raton & Broward County
Let Broward Plumbing be your knight in shining armor when a burst pipe strikes your home in Boca Raton! Our emergency plumbers near Boca Raton are on call 24/7 for your rescue.
We understand those unexpected plumbing problems can be stressful and overwhelming, but you can rely on the Boward Plumbing experts for prompt and professional repairs & service.
Contact us now to get expert plumbers near Boca Raton on the job!