Why Get Plumbing Inspected Before Moving in Fort Lauderdale
Posted in General Plumbing Services, on July 29, 2022
---
When moving into a new home, you already have a checklist of the many things you need to do. Make sure you have a home plumbing inspection from a reputable professional plumber in Fort Lauderdale on your to-do list! Hiring a plumber for a home inspection, including a plumbing camera inspection, allows you to address problems with your realtor before purchasing or moving forward. Being well informed about the property you're moving into is probably the most sensible investment you can make!
Why Should I Get My Plumbing Inspected Before Moving into a New Home?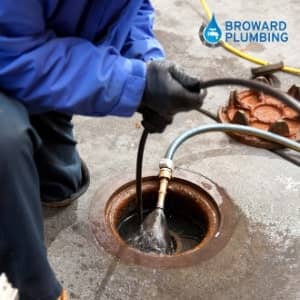 Many of us may think that a home plumbing inspection isn't essential, but here's why it is worth the cost:
A plumbing inspection will help you make the correct choice by confirming that the plumbing system is safe, legal, and in good working order.
If there are issues, you can leverage them in buying negotiations.
The plumber may suggest solutions that save you time, money, and hassle.
You'll be familiarized with the plumbing system, which will be helpful in future.
You can tailor the plumbing as per your specifications before moving in.
What Does a Plumbing Inspection Entail?
As a part of the plumbing inspection, your plumbers in Fort Lauderdale will:
Check for Leaks: The first step is to check for leaks in the shower, sink, faucets, tubs, or toilets. Even a tiny leak or a single dripping faucet can add to your water bill. Thoroughly check the sinks, faucets, and toilets for leaks and that they are fully functional. Inspect the water flow and drainage in bathrooms as well as the faucets. There should be a free flow of water as slow draining toilets or sinks indicate potential clogs.
Check the Pipe & Sewage System: The plumber can also perform a plumbing camera inspection to check the condition of pipelines and storm sewers. Underground pipe replacement and drain clogging are one of the most expensive plumbing works. A plumbing camera inspection will let you know the exact condition of the plumbing and sewage system. If the lines are corroded or have tree-root invasion, you can take appropriate action and save a fortune in repair expenses in the long run. The plumber can also check the pipe size to determine whether they are adequate for good water pressure and flow.
Check the Gas Lines: Gas leaks can be hazardous—an expert gas line technician should check for potential leaks inside or outside the house.
Check the Water Heater: The plumbing inspection includes checking whether the water is in good working condition or needs repair/replacement. Typically the technician will check the thermostat, the anode rod, pressure relief valve, corrosion or leaks in the hot water tank. If the heater needs repair, you can negotiate on the price or ask for a replacement before you move in.
Choose the Plumbers in Fort Lauderdale at Broward Plumbing
No one wants to move into a new home only to discover plumbing issues that need fixing! Investing in a plumbing inspection pays for itself as an experienced plumber can spot plumbing issues before they become costly disasters. Make an informed decision with a plumbing inspection from the pros at Broward Plumbing. Our licensed and expert team will thoroughly inspect plumbing issues and ensure that your home plumbing is in top shape before you move in. Don't underestimate the importance of a plumbing inspection.