Why Not Ignore Drain Odors in Fort Lauderdale
Posted in Sewer Line Repair, on April 13, 2023
---
Buildings, commercial or residential, have a way of providing hints that something is wrong before disaster strikes, and this is especially true when it comes to plumbing infrastructure. A telltale signal from your home or commercial property that you may need a plumber near Fort Lauderdale is a foul odor. Buildings sometimes have a way of providing hints that something is wrong before disaster strikes. An odor from the drains is your first sign that something is wrong with your pipes. Broward Plumbing is the best plumber in Fort Lauderdale as we ensure to take care of all your plumbing issues, large and small and make sure something more serious isn't brewing.
We will explore why a smell from your drains might warrant a call to a reliable plumber near Fort Lauderdale for an inspection and trenchless sewer repair. Most importantly, don't ignore these odors, as they can be harmful to inhale or come in contact with because they may carry toxins.
Blockage in the Drain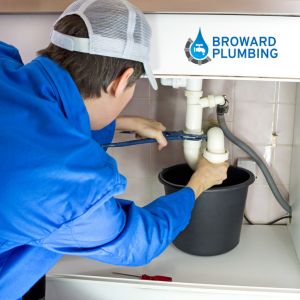 Often bacteria feeding on the buildup in the drains can cause a foul odor. If you recognize a terrible smell, it's likely the sign of a clog and something you would want to remedy sooner than later. Eventually, a drain clog can lead to water not draining properly, which can be frustrating.
Homeowners can often view a drain clog as something trivial that they can repair themselves or using a DIY tactic; we wouldn't advise this as clogs are potentially indicative of backups in the sewer lines. A smell from your drain can signal a backup and indicate that pipes may have suffered damage. So you if notice a smell from your drain, it's not a bad idea to call a plumber near Fort Lauderdale to ensure the clog is only in the drains and not deeper in the sewer pipes.
Backup in the Sewer Pipes
Backups in a sewer pipe are a serious concern because sewage and water waste are being pushed back toward your home and no longer away from it. This can pose a health risk and potentially cause flooding and water damage to your home.
Backups can occur in a sewer pipe for a variety of reasons. For instance, tree roots in older homes can cause damage to sewer pipes. Even a heavy storm can flood the pipes or deliver too much debris, creating a backup. So getting an inspection by a certified plumber will help ensure you don't have a much more serious problem lingering behind that odor.
Trenchless Sewer Repair Plumbers Fort Lauderdale
An experienced plumber can diagnose sewer pipe backup through a robotic camera inspection. Fortunately, there is an excellent solution when this occurs, which is a trenchless sewer repair. Trenchless sewer line repair is ideal, as we can clean and repair your pipes without digging up much of your lawn or garden. Trenchless sewer repair limits damage around your home. Broward Plumbing is happy to offer this service, so we can fix your pipes while limiting any damage to your property.
Broward Plumbing offers the best plumbers in Fort Lauderdale. Our experienced team, technology and best-in-class equipment will always ensure you get the best service immediately without risking more severe damage to your property down the road.
Contact Broward Plumbing now to discuss all of your plumbing needs.