Skilled Plumbers in Boca Raton You Can Trust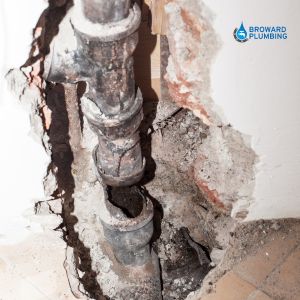 Pipes that are leaking, broken or clogged, can quickly become an extreme inconvenience and costly repair if not dealt with properly the first time around. For specialized plumbing in Boca Raton get in touch with Broward Plumbing. A plumber in Boca Raton will quickly be able to attend to your pipe issue. At the inspection, they come prepared with all the tools and parts needed to fix your pipes in a timely manner.
Our team of specialists are ready and able to help you whenever and wherever you need us. Our plumbing services are 24/7 regardless of the emergency at hand. For professional pipe repair in Boca Raton, contact the plumbers in Boca Raton at Broward Plumbing.
Commercial & Residential Pipe Repairs in Boca Raton
Leaky faucets and valves: If you are seeing small drips coming out of your faucet, do not wait to get this fixed. It will cost you more money in the long run if left unattended. At Broward Plumbing we are particularly trained on all faucet models and can properly perform the repair, whether it's replacing a seal or adding a new O-ring.
Damaged pipes: Water bills can sometimes rise unexpectedly, and when this happens it is usually the cause of a damaged pipe. If left without repair, major damages can occur.
Blocked pipes: Blocked pipes can be a cause of disaster in the home. Not only will it make your toilet or sink overflow, but it can cause awful smells and a backup. Want to avoid clogged pipes? Don't flush anything other than toilet paper down the toilet and avoid putting cooking oils, leftover grease, coffee grounds of eggshells in your kitchen sink.
Re-piping: If you work or live in an older property, you will need to have your plumbing system re-piped, at some point. Unfortunately plumbing cannot last forever, and with stubborn clogs, invasive tree roots, decay and other issues; your pipes may need to be changed sooner than expected.
Guide to Pipe Repair Services in Boca Raton
Do pipe repair and/or restoration save a tenant and building owners money?
Yes! Since pipe restoration will restore a home or buildings piping system inside the walls, owners will save quite a bit of money by not paying to swap out their current piping system. Not removing and replacing pipes, and/or destroying walls save the large costs that may be incurred.
Does pipe restoration outlast a new pipe?
Yes! New pipes begin to decline the moment your water is turned on. A brand of 'epoxy' lined pipes, for example can help protect against deterioration.
Can a pipe repair in Boca Raton or pipe restoration be planned around my or my tenant's schedule?
Yes! Broward plumbing repair or restoration services can be planned as far ahead as possible. If it is for an apartment building, an updated schedule of the suites to be restored or repaired is posted in the building's lobby on a daily basis. The process should not compromise your tenant's and/or your standard of living.
Is the Broward plumbing pipe repair system method safe for the environment and us?
Yes! Our pipe repair system does not use toxic chemicals in its cleaning process, meeting Florida state water safety standards. In addition, the pipes used in this process are certified safe for use in all portable water systems.
If pipes are fragile and old, can your system fix my pipes?
In most cases yes, however in all circumstances a site visit must be arranged with a Broward plumbing specialist, who will identify the issues and make the final resolve.
Will flooring and carpet be protected when technicians are at my property?
Yes. Every Broward plumber in Boca Raton manages all their work inside the home or building, so no dirt or mud is tracked in. The only material likely to touch flooring is the hose that delivers the air to the piping system. In the event your home or business involves special attention, ground covers are laid down before work has begun.
Is Broward plumbing pipe repair or restoration system the most environmentally friendly alternative?
Yes, when we restore your existing pipes, it will in turn reduce the cutting of floors, walls and ceilings normally related to the conventional methods. The materials that we use will reduce strain and waste on landfills. It also protects and minimizes the leakage of damaging metals such as lead from entering your drinking water.
Neighbours have advised me that a great way to avoid digging up my lawn is by hiring a company that is known for "Trenchless" sewer line repair, is there a reason I should go with this method?
This way of sewer repairs is time-saving, convenient, and cost-saving. Today with pipes that are old, tree root interruption, and calcification, sewer line catastrophes have developed into a big problem for businesses and homeowners. With Trenchless sewer line pipe repair, swapping out a sewer line has become much more efficient. 'Trenchless sewer replacement' is a highly advanced technological method that will easily replace an impaired sewer line while being the most budget-friendly method in getting it repaired.
Why Choose Our Plumbers Near Boca Raton
Our plumber in Boca Raton promise to find the source of the problem and will perform the repair on the spot. With great reviews and consistent referrals, we take price in our family-run business as your number one plumber for pipe repairs In Boca Raton. We offer consistent and accountable services up to your satisfaction. And of course, offering fair and reasonable prices prior to starting on a job. For the best pipe repair in Boca Raton, contact the professionals at Broward. Give us a call and we will send out a skilled plumber in Boca Raton that will come ready to fix the problem at hand.
Call us now at 954.516.7777 to schedule a service with Broward plumbing, to repair or restore your pipes today.
Broward Plumbing Inc. - Plumbers in Boca Raton, Florida
301 Yamato Road, Suite 1240, Boca Raton, FL 33431, United States