Plumbers in Boca Raton Equipped with Leading Tools
At Broward Plumbing we offer the most current technology to perform plumbing camera inspections in Boca Raton. We use a special robotic video camera to locate any drain or pipe problem(s) quickly and professionally on both commercial and residential properties to enhance the speed and quality of our plumbing services in Boca Raton and Broward County.

We specialize in drain repair, cleaning and maintenance of all types of sewer systems, delivering a full camera inspection and drain analysis. With this type of camera we can control any inspections, view and record digital video, log comments and generate precise and accurate reports.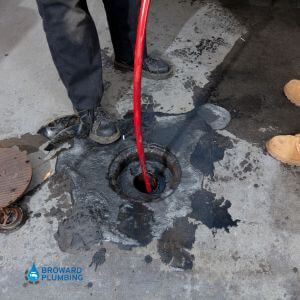 When a plumber in Boca Raton is performing plumbing camera inspections with our robotic camera we are able to diagnose and implement:
Residential and commercial sewer line replacements
A thorough camera inspection
Drain clean up with a water pressure jet device
Sewer pipe substitution
Precautionary maintenance
Drain Snaking
Backed up sewers
Blocked drain pipes
Thorough plumbing camera inspections allow our professional plumbers to assess the condition of drain pipes and locate leaks for the best hydro jetting, polybutylene pipe repair, and cast iron pipe repair in Boca Raton.
Guide to Plumbing Camera Inspections in Boca Raton
We use this form of technology to achieve tasks in places that are impossible to reach. The robotic camera allows a plumber in Boca Raton to approach areas that are either too remote or dangerous, for human involvement. It helps us to progress practical planning, reduce safety risk, and keep overall repair and detection costs down for our clients. We have the right tools and the expertise to tackle your plumbing issue without the messy clean up, offering you an effective solution to any problem that you may be experiencing.
How Do Plumbing Camera Inspections in Boca Raton Work?
Broward Plumbing plumbers in Boca Raton will be able to specifically identify what your issue may be with your drainpipe, and the location source. Our camera is held by a 330-foot cable and cautiously lowered into the drain to visually locate the blockage. A robotic camera inspection allows us to be discreet and more accurate, and helps us to avoid plumbing practices that involve technicians having to rip up your property to isolate the issue. After the concern is located our team of technicians are able to decide the most efficient resolution to repair it. In some cases we are able to use our 'sewer snake' to break up the blockage and bring your drain problems to an end once and for all. Therefore, with plumbing camera inspection in Boca Raton, Broward plumbing will resolve the problem quickly with extraordinary precision, at no inconvenience to you.
The Expert Plumbers in Boca Raton
By contacting a plumber in Boca Raton from Broward Plumbing for your plumbing camera inspection in Boca Raton we will provide you with a highly trained expert at your business or residence, performing your camera inspection, on the same day of your call.
If you are having any big or small plumbing issues, you can rely on the #1 plumbing company in Boca Raton. We have expertise and experience to respond to any plumbing issues, with reliability and success. Call us today at 954.516.7777 for a complimentary quote or to schedule a service.
Broward Plumbing Inc. - Plumbers in Boca Raton, Florida
301 Yamato Road, Suite 1240, Boca Raton, FL 33431, United States