Professional Trenchless Sewer Repair Services in Boca Raton
Backed up sewer lines can cause serious damage to your property, water damage, and disruption to your plumbing systems. When your drains get clogged, contact a plumber in Boca Raton for trenchless sewer pipe repair.
When your sewer line isn't working it can be a drag, but what's more, is having to destroy your entire front yard in order to fix it. But with a plumbing company in Boca Raton like Broward Plumbing you don't. Our team of highly qualified technicians and plumbers in Boca Raton use trenchless sewer repair for all of your plumbing needs. This means we can successfully provide sewer line repair in Boca Raton without tearing up your lawn.
Trenchless sewer repair in Boca Raton is a straightforward and non-invasive approach to drain pipe repairs. When executed by a skilled and professional team of plumbers near Boca Raton, you can restore health to your plumbing system effectively.
Do You Need Trenchless Sewer Line Repair?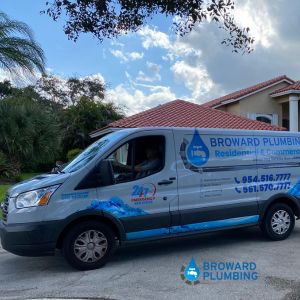 Sewer line repair is a plumbing services in Boca Raton and Broward County that is required for a variety of reasons, when you start to experience backups and disruptions to the water flow away from your property, trenchless sewer line repair is the answer.
Signs You Need Trenchless Sewer Line Repair:
Foul Odors & Waterlogged Lawns: Sewage often passes through drain pipes below your residential or commercial property, but when there are cracks or fractures in the existing pipes, water and sewage can spill out and flood the grass.
Gurgling Sounds in Drains: When blockages occur in drain pipes from debris or even scale or mineral deposits, sewers can back up into drains within the property.
Burst Pipes & Water Leaks: When blockages intensify, cracks can lead to water damage within your property, causing your burst pipes or leaks that affect the health of your property.
If you notice these signs around your property, contact Broward Plumbing for trenchless pipe repair services.
If you have had cast iron or polybutylene pipes on your property, your plumbing may be more susceptible to damage. At Broward Plumbing we offer cast iron pipe repair and polybutylene pipe replacement.
Benefits of Trenchless Pipe Repair in Boca Raton
There are a few types of pipe repair services that can help you get the best pipes for your property. Trenchless pipe repair in Boca Raton is a non-invasive approach that can give you the best results for your plumbing problems. Trenchless pipe repair in Boca Raton is an efficient and effective approach to sewer line repair that gets results sooner rather than later.
Want to discuss your pipe repair options?
TALK TO THE BROWARD PLUMBING TEAM
Why Choose PVC Pipe Repair Services
When robotic camera inspections identify hairline cracks in your pipes that go beyond build up, cast iron pipe repair is not recommended. Our professional plumbers in Boca Raton, recommend making the switch to PVC pipes, which are engineered for longevity and performance.
For trenchless sewer repairs in Boca Raton, our plumbers use a special camera that located the issue(s) as well as determining how it happened. This entire process is stress-free and requires no digging of your lawn.
Following this step, and your plumbing problems are found, our plumbers offer efficient and reliable repair solutions without causing damage to your land and/or landscaping around your commercial or residential property. In turn, this enables a plumber in Boca Raton to deliver high-quality repair solutions minus the invasiveness of more traditional sewer line repair services.
Expert for Trenchless Sewer Repair in Boca Raton
All products for trenchless sewer repair are reasonably priced and work efficiently in your commercial property or home. It is also a damage-free and seamless process. With our expert plumbers in Boca Raton, your job will be complete on the same day you give us a call.
Beside Boca Raton, Broward Plumbing serves Broward County, Weston, Miami-Dade County, West Palm Beach, Hollywood, Fort Lauderdale, Pompano Beach, South West Ranches, Delray Beach, Boynton, Deerfield, Weston, Coral Springs, and more.
Looking for dependable trenchless sewer repairs in Boca Raton? Call a Plumber in Boca Raton at 954.516.7777 and get expert trenchless sewer repair services for your home or business today!
Broward Plumbing Inc. - Plumbers in Boca Raton, Florida
301 Yamato Road, Suite 1240, Boca Raton, FL 33431, United States