Hot Water Heater Repair Plumbers Near Boca Raton
Are you concerned with how your water heater is performing?
If your water heater is more than 10-15 years old, you may require a water heater repair in Boca Raton, or you may need to switch it for a new one. With long-term use, your water heater has the ability to collect buildup, especially at the bottom of the water heater tank. This layer of excess makes water heaters less effective over time. Additionally, your tank will have to work harder to heat your water, which will increase your utility bill costs. Eventually, you will become due for a water heater repair in Boca Raton or a replacement altogether.
When your water heater stops working, call our expert plumbers in Boca Raton for repair and installation.
Reliable Plumbing Services & Repairs in Boca Raton
Do You Need Water Heater Repair for Leaks?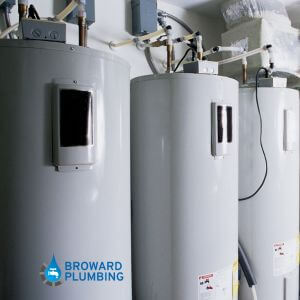 If you have a water heater leak, it is important to locate the source of the leak and to water leak repair in Boca Raton as soon as possible. If your water heater leak is unrepaired for some time, it can trigger severe structural damage to your commercial, residential or industrial property. If you need a plumber in Boca Raton, we have certified plumbers in Boca Raton that will come to your property location to inspect the common causes of the leak, which may include a failing outlet connection and/or water inlet, or a leaky valve. If you have an older water heater model, you may also have a worn out tank liner.
How do you know if you need a water heater repair in Boca Raton?
Do you experience cold or lukewarm showers after 1 use?
Have you found rust in your hot water?
Do you hear muffled sounds in your pipes or tank when your water heater is operating?
Is there water collecting close to the tank's collection pan?
Does your water take a long time to heat up?
Tankless, Hybrid & Conventional Water Heater Repair
Definitely contact Broward Plumbing for your water heater repair in Boca Raton, if you answered yes to one or more of these questions. A plumber in Boca Raton will detect the water heater issues in an efficient manner, while taking extreme caution to resolve them. In addition, we offer a water heater maintenance package to identify minor repairs, which can save you a lot of money in the long run. We always guarantee that our water heater repairs are completed accurately the first time.
What is the average lifespan of a water heater?
The average lifespan for gas or electric water heaters is 10 years. Having consistent water heater maintenance, will guarantee to prolong the lifespan of your water heater. If you are unsure if your water heater needs to be repaired or replaced, Broward Plumbing can deploy a plumber in Boca Raton to make a site visit to your business or home, to inspect your water heater. We will also support you in deciding the best plumbing services including replacement or repair options for your needs.
The Most Common Questions About Water Heaters
How would I find out how old my conventional water heater tank is?
All water heaters come with an attached label known as a 'rating plate' which will give you all of the water heater's information and normally includes; the serial and model number of the water heater. The serial number can tell us how old your water heater is and the month and year of your unit.
Are there different warranties for a conventional water heater tank that I can choose from?
A standard water heater warranty (the manufacturer's standard limited warranty) usually covers the water heater if it were to experience leakage and if labor was required, in the first year. At Broward Plumbing, we do extend the labor warranty as part of our client service. In addition, we offer options where we can apply for a manufactures' water heater limited warranty for a 10-year period.
What are the differences between tankless and conventional water heaters?
Currently, conventional water heaters normally run throughout the day, on a constant basis, heating up the water and storing it in a big tank to make available for use when needed. With conventional water heaters, an abundance of energy is used and somewhat wasted throughout the day, as the tank maintains the heated temperature. Tankless water heaters only heat up your water heater tank when it is actually being used. When you turn on the hot water, the water heater will instantaneously 'turn on', heating the water up right away. It will also continue to keep the heat up until your faucet is turned off. Tankless water heaters save energy and never run out of hot water. A conventional heater may run out of its preheated water, and you would have to wait until there is more heat added, before you can enjoy your hot shower.
What are the most popular tankless water heaters on the market?
The best tankless heaters incorporate high end computing systems which normally guarantees that a specific water temperature is preserved, regardless of any changes in water flow, pressure, and the water temperature that is required to be heated. Tankless heaters tend to cut your water heating costs up to 50%. Not only are you saving money by switching over to a tankless water heater, you are also serving the environment by cutting back on wasted energy and water use. Lastly, these types of water heaters will take up less space in your home or business and offer much longer lasting warranties.
The Most Reliable Plumbers in Boca Raton
If your water heater unexpectedly stops working, and you are in need of a water heater repair in Boca Raton, our Broward plumbers in Boca Raton are on hand 24/7 to answer your call. We are able to visit your commercial or residential property quickly, and efficiently replace or repair your water heater. Our professional and experienced technicians will offer you the equivalent upfront prices, day or night.

Broward Plumbing services as north as West Palm Beach, Boca Raton, Parkland, Coral Springs, Deerfield, Delray Beach, and as south as Fort Lauderdale, Boynton Beach, Aventura, Hollywood, Hallandale, Pompano Beach. Contact us to schedule an appointment online for your water heater repair in Boca Raton today.
Broward Plumbing Inc. - Plumbers in Boca Raton, Florida
301 Yamato Road, Suite 1240, Boca Raton, FL 33431, United States