Why Sediment Build Up Leads to Water Heater Repair
Posted in Hot Water Heater Repairs , on March 29, 2023
---
Are you experiencing a gradual decrease in your water heater's performance? If so, sediment buildup may be the culprit that can cause multiple problems like decreased efficiency and lifespan, increased energy bills, and potential safety hazards. Understanding the reasons behind this sedimentation can help you take crucial preventive steps with a professional plumber in Fort Lauderdale.
Read on to learn about sediment buildup and whether you need a professional plumber in Fort Lauderdale for reliable water heater repair.
How Sediment Builds Up in Water Heaters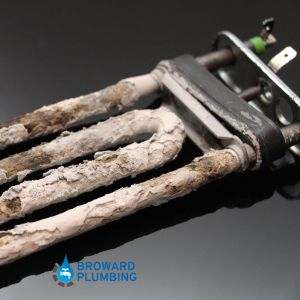 Sediment buildup occurs when minerals like magnesium, calcium, and other particulates in the water get deposited at the bottom of your water heater tank. Over time, this buildup can significantly impact your unit's efficiency, longevity, and safety. Unfortunately, the heavy mineral content in Florida's water supply can be responsible for the unwanted buildup in your water heater. Reach out to Broward Plumbing's expert plumbers in Fort Lauderdale to flush your system for much-needed water heater repair.
How Buildup Impacts Your Water Heater's Efficiency
Sediment buildup can significantly lower your water heater's efficiency. The accumulated minerals and sediment in the water tank form a thick layer, making your unit work harder and longer to heat the water.
The heating will also slow down and take much more time to heat water, resulting in higher energy bills.
The additional strain on the system makes it vulnerable to breakdowns and requires frequent water heater repair.
Buildup can also shorten the working life of your water heater.
Signs You Require a Professional Plumber in Fort Lauderdale
Wondering whether you need a water heater flush to remove sediment buildup? Check for these warning signs:
Crackling, popping, or whistling sounds when running the unit.
It takes ages to get hot water.
The heater only warms the water.
The hot water is cloudy and smells off.
Sudden unexplained hike in your energy bills.
Weak hot water pressure or decreased water flow.
Sediment Buildup & Safety Hazards
Besides reducing your hot water heater's efficiency, sediment buildup can be a potential safety threat. The mineral and scale layer creates a barrier between the water in the tank and the heating element. This can be a fire hazard due to the possible overheating of the element. Excessive sediment buildup can also increase the pressure inside your water heater and even cause it to rupture suddenly. Trained and experienced plumbers near Fort Lauderdale can help identify sediment buildup and restore your plumbing with water heater repair services.
Why Opt for Regular Water Heater Maintenance
Thankfully, homeowners in Florida can take preventive steps to avoid sediment buildup and keep their units running smoothly. Regular maintenance and prompt water heater repair are vital. A professional plumber in Fort Lauderdale can inspect your system and flush the water heater tank to remove accumulated sediments. They can also detect other problems or signs of wear to catch potential issues in time. You can also invest in a professional water softening system to reduce scale buildup.
Hassle-Free Water Heater Repair Fort Lauderdale
Be proactive about water heater repair! Contact Broward Plumbing for skilled and certified plumbers in Fort Lauderdale to handle all your water heater and other plumbing problems. With our commitment to quality work and customer satisfaction, you can rest assured of the best plumbing service across Broward County and Fort Lauderdale. Our specialist plumbers can get to the bottom of your water heater woes and ensure quick repairs at fair, transparent pricing.
Contact Broward Plumbing for a water heater tank flush or any other plumbing repair or installation today!